McDonald Homecoming brings families, fun, history together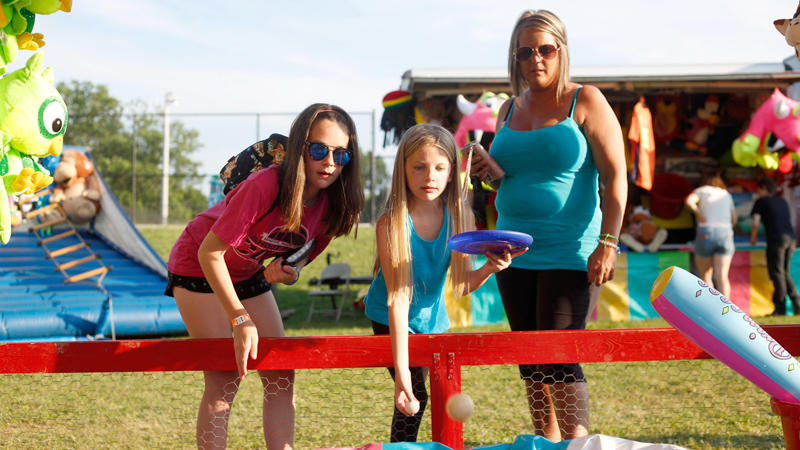 ---
MCDONALD
The blazing hot weather didn't deter families from enjoying fair food and rides at the McDonald Fire Department 85th Annual Homecoming Festival on Saturday.
Jack Evans Jr. has come to the festival every year since 1926.
"It's just tradition," he said. "It started out humble, but it gets bigger and better every year."
Evans Jr., who served as fire chief in the 1980s, and as a school-board member for 32 years, first came to the festival when he was just 6 months old. His father was police chief, then became mayor.
"Those were the days," he said, looking at a picture of his father and his police officers from 1935, and some materials they used as policemen.
During the homecoming festival, some folks reminisced at the community center, where the McDonald Historical Society set up artifacts from the early 1900s and information about the town's steel mill and police and fire departments.
Evelyn Hannon, the society's curator, is a proud lifelong resident of the village.
"This festival is everything. Everyone who moved away comes back for this," she said.
She and Cliff DeZee, member of the historical society, educated guests on the origins of the village.
"We volunteered to keep this society going. This is the one time of the year we can use this building to display what we have," DeZee said.
Outside, the smell of fried food wafted in the air, and pop music played as families milled around.
Michelle Mechling of Niles said she enjoys coming to the festival with her granddaughters, Abbey and Maddy Mechling, to play fair games and bingo.
"I've been coming here every summer since I was a kid," Mechling said.
Kandice Ogarek of McDonald comes every year with her children because they love the rides, and they look forward to getting lemon shakes.
She also likes that the festival is safe for her children.
Marquise Whitacre of McDonald came to the festival with her father, Mark Whitacre. She loves the festival, especially because of the sno-cones and rides. She won a stuffed animal, but wished she had gotten a prize rabbit.
Children who won a game where the goal is to toss a ball into a cup floating in a kiddie pool could take home a live rabbit or a fish.
More like this from vindy.com