Inaugural Ribs-N-Rock Festival featured heat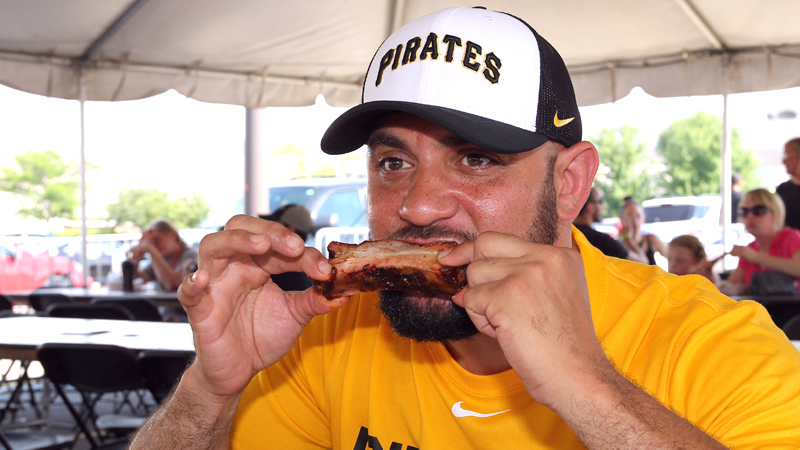 ---
By Sean Barron
BOARDMAN
If Saturday's temperature in the low 90s and complementary humidity weren't enough to convince you that summer is here to stay for a while, then perhaps standing close to a large grill and watching Clifford Mortimer prepare a slab of lean St. Louis spare ribs will seal the deal.
"It's like a Kansas City sauce. Kansas City has brown sugar and molasses, and is tomato-based," the Birmingham, Ala., man explained about the barbecue sauce with which he coated the large rack of ribs.
Mortimer, who owns Sweet Home BBQ restaurant in Clay, Ala., added a lightly spiced aroma to the atmosphere Saturday afternoon during the third and final day of the inaugural Ribs-N-Rock Festival in the Southern Park Mall parking lot, which kicked off Thursday.
Mortimer is a friend of the owner of Barry Dyngle's Pub in Austintown, who convinced him to come to the Mahoning Valley for the event, he explained. Being around spare ribs certainly is nothing new for Mortimer, who has taken part in about 300 such competitions since 1993, he said.
Not far away, Nicole Vaughn of Elizabethtown, Ky., was basting a rack of St. Louis-style ribs with a thick layer of golden spice-flavored sauce. Vaughn, who works for Texas Outlaw restaurant in Elizabethtown, also was among those selling half and full racks of ribs for $15 and $25, respectively.
The business also offered brisket, pulled chicken and pork sandwiches, along with several sides.
Among those who enjoyed several ribs combined with coleslaw and baked beans was Brandy Davis of Lisbon, who also took in a bit of rock 'n' roll, courtesy of a local band called Turbo Lovers, who performed for more than an hour on a large stage nearby. Accompanying Davis was her date, Jeff Clark of Calcutta, who settled for all ribs.
The couple also was among many festivalgoers who opted to sit under a large white tent as an antidote to the oppressive heat and humidity.
The fest was truly a family affair for Joe and Renee Harker of East Palestine, who took their time savoring a variety of ribs with daughters Callyn, 8, and Leighaden Harker, 10.
The event was special for Kelly Morocco of Austintown, though for a different reason.
"Today is Bike Day, so they asked me to come to do the announcements" to introduce the bands, said Morocco, who is part of www.bikerradiostation.com, an online radio station that plays several genres of music and on which she hosts a talk program.
Other area bands that followed Turbo Lovers were Generation Rock and Haymaker. Taking the stage to wrap up the festival was Sponge, a five-piece Detroit-based group that made a name for itself by serving up "Rotting Pinata," its 1994 debut album that produced a pair of hits, "Plowed" and "Molly (16 Candles Down the Drain)."
Last month, Sponge, led by front man Vinnie Dombrowski, performed at the Detroit Music Awards.
More like this from vindy.com