Enjoy a Sunday brunch at Tara in Hermitage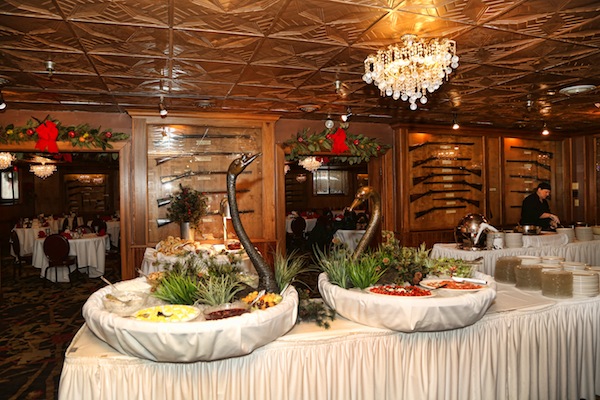 ---
IF YOU GO:
Where: Tara - A Country Inn, 2844 Lake Road | Clark, PA 16113
Phone: 800-782-2803 | 724-962-3535
Email: www.tara-inn.com
By REBECCA S. NIEMINEN
CLARK, PA.
Many moons ago, I recall visiting Las Vegas and marveling at the decadent all-you-can-eat buffets that featured gourmet cuisine of all varieties. Like most Vegas visitors, I indulged in the deliciousness until I felt my tummy would burst.
Turns out I don't have to travel across the country to enjoy a buffet of comparable decadence and gourmet excellence.
Sunday brunch at Tara

Gallery
I only have to drive myself to Tara - A Country Inn (just north of Hermitage, Pa.) for its weekly Sunday brunch.
Tara serves its sumptuous brunch from 11 a.m. to 3 p.m. Sundays. Reservations are required. During my recent visit, I was thoroughly impressed by the variety and quality of the fare.
The brunch includes a chef's station with made-to-order omelets, crepes and waffles.
In addition, guests can choose from: breakfast favorites such as fresh fruit, bacon and bagels; dinnertime delights such as roasted turkey and stuffing, mashed redskin potatoes, slow-roasted raisin-glazed ham, roasted prime rib, mixed vegetables, pork and sauerkraut; side dishes such as potato salad, pasta salad, garden salad, Caesar salad; and a dessert table stacked with cupcakes, carrot cake, cheesecake, bread pudding, peach cobbler and other delights.
Are you feeling hungry yet? I feel hungry just remembering the lavish smorgasbord that unfolded before me.
During my visit, I sampled a little bit of everything and found everything to be delicious.
I should clarify it's not just the cuisine that makes Tara an unforgettable place to eat. Inspired by the classic novel and film "Gone With the Wind," Tara is a sprawling historical property (circa 1854) renowned for its luxurious overnight accommodations and southern hospitality.
The elegant inn is decorated with opulent antiques and Civil War memorabilia. The exterior features Grecian columns and manicured gardens.
The brunch area sparkles with crystal chandeliers and two large black swan centerpieces that make a bold and graceful statement.
Servers clad in period garb serve water in mock pewter goblets. The heavy goblets, which I assume are made of metal, keep the water deliciously icy and make each sip of an otherwise ordinary beverage seem like a luxury.
The hot foods are displayed in gleaming silver serving trays.
These added touches help to create an indulgent, unforgettable dining experience.
Although everything I tasted was truly sumptuous, the servers informed me the bacon, the roasted prime rib and the mashed redskin potatoes get rave reviews as some of the buffet's most celebrated items. After tasting each, I could definitely understand why.
Regular all-you-can-eat Sunday brunch costs $20.95 for adults, $16.95 for seniors, and $12.95 for children 12 and under (plus tax and gratuity). Babies and toddlers eat for free.
In addition to the regular Sunday brunch, Tara also offers all-you-can-eat holiday brunches: Mother's Day brunch, Easter brunch and Thanksgiving brunch. Holiday brunch prices are: $29.95 for adults, $25.95 for seniors, $16.95 for children 12 and under and babies and toddlers eat for free.
Bill Moore, manager at Tara, said special dishes are added to the holiday menus, such as lamb and prime rib for Easter. The made-to-order omelet and crepe stations are not offered as part of the holiday brunch spread.
Moore said Tara has been offering the all-you-can-eat Sunday brunches for about 15 years.
In addition to its regular Sunday brunch, Tara also features Stonewall's Tavern, a lower level restaurant renowned for its steaks and seafood. Stonewall's hand-hewn beams, stone walls and crackling fireplace give it a rustic charm.
Ashley's Gourmet Dining Room offers the experience of a lifetime with a seven-course gourmet meal by candlelight with white-glove service. Jacket and tie are required.
For a pre-dinner cocktail or after-dinner cordial, the Atlanta Lounge is the perfect place to spend time with the one you love or gather with a group of friends. The intimate setting reflects the Southern charm of Tara by inviting guests to unwind and leave the cares of the world behind.
More like this from vindy.com