Ex-Traficant aide to spend two years in prison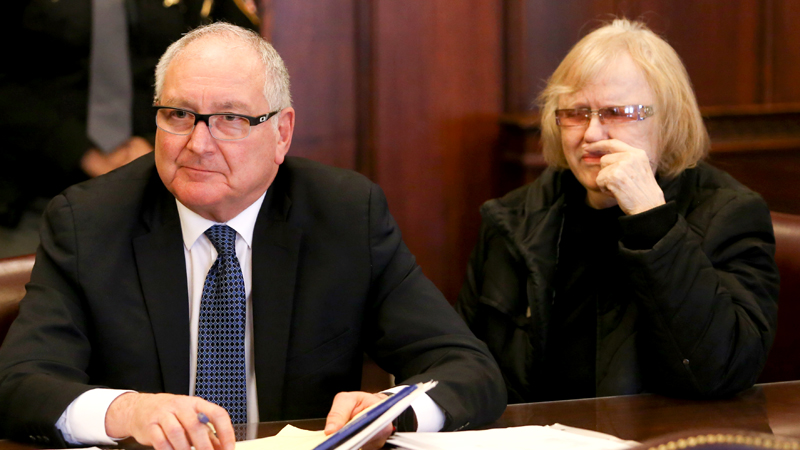 ---
By Justin Wier
YOUNGSTOWN
A former aide to the late U.S. Rep. James Traficant will spend the next two years in an environment familiar to her former employer: prison.
Linda Kovachik, 70, of Flagler Lane, received the two-year prison term Tuesday in Mahoning County Common Pleas Court for stealing from a 76-year-old woman with dementia.
Laura Summer, the victim's daughter, broke out in tears as she read a prepared statement in court.
"My mother is 80 years old and she cries every single day," Summer said. "She trusted you, and from you, no apology and no inkling of remorse."
Kovachik apologized in court, but then accused her victim's children of being absent from her victim's life. She claimed her victim was a friend, and Kovachik attributed her actions to a gambling addiction.
"I don't know what happened," Kovachik said while breaking into tears. "When you're down and out, you think you'll be able to win and pay it back, but sometimes you don't. That's what happened to me."
Judge Anthony M. D'Apolito told Kovachik friends protect one another.
"You talk about being a friend," the judge said. "You were not a friend; you were an opportunist."
Kovachik pleaded guilty in November to felony theft.
Prosecutors dismissed four counts of forgery in exchange for the plea.
The amount Kovachik stole remains up in the air: Prosecutors said they could substantiate a theft of about $100,000, her defense attorney claimed it was closer to $50,000 and her victim's family claimed she took $500,000 including jewelry and other items.
Kovachik befriended her victim in 2013 after the woman confided in her at a church on the West Side of Youngstown that she thought her children were stealing her money, investigators said. She then gained power of attorney over the woman's financial accounts.
"At some point, [Kovachik started] to use that power of attorney to enrich herself," said Nicholas Brevetta, an assistant county prosecutor.
Judge D'Apolito said he believes the victim's concerns about her family were unfounded.
"The ironic and saddest part about this case is that the reason [the victim] appointed you power of attorney was because she didn't trust her family," the judge told Kovachik.
In her victim-impact statement, Summer asked the court to send a firm message loud and clear for the elderly, who can't speak for themselves.
Samuel Amendolara, who represented Kovachik, asked for probation because of Kovachik's age, and he argued she was unlikely to commit another crime.
He said the prosecutor's recommendation of two years was "obscene," and suggested the case would not have received publicity if Kovachik had not worked for Traficant.
Judge D'Apolito imposed the two-year sentence despite an independent pre-sentence investigation that recommended probation.
The maximum sentence for the charge to which Kovachik pleaded guilty is three years in prison.
Still, Summer did not feel justice was served.
"It's a sad state of affairs," Summer said. "Nobody speaks up for the elderly."
Two civil cases related to Kovachik's theft resulted in settlements.
A case against Kovachik resulted in a $50,000 settlement, but because Kovachik's attorney said she relies on Social Security for income, she may not be able to pay that sum.
Attorneys reached a settlement in a case that accused Chase Bank of failing to stop Kovachik from stealing from the victim for an undisclosed amount of money.
Brevetta said the amount recovered was "nowhere near" the amount he believes was stolen.
More like this from vindy.com