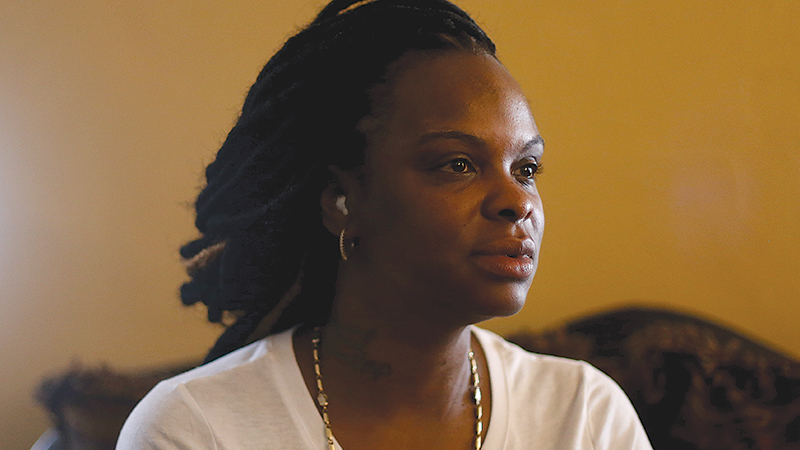 ---
By Joe Gorman
YOUNGSTOWN
The 9 mm bullet that paralyzed Jondale Benson from the chest down last March 24 was made out of copper, lead, zinc, nitrocellulose and nitroglycerine.
It was made at the Winchester factory in Alton, Ill. A 50-round box of Winchester 9 mm ammo goes for $10.86 on walmart.com, although it is currently out of stock, according to a recent internet search. It is, however, available in stores, the website notes.
Just one of those 1.38x5.99x2.66-inch bullets, however, paralyzed Benson.
Benson, 19, is one of 82 people injured by a bullet in 2017 in Youngstown, according to police department records, which includes at least 22 of the city's 26 homicide victims. Another victim was beaten, another stabbed and the causes of death for two others who were found dismembered have not been released.
Johnise Benson, Jondale's mother, said not all wounds are physical.
"Healing the body is one thing," she said, "but healing the mind is a completely different prospect."
Jondale also was struck by two other 9 mm bullets.
The bullet that struck him in the chest blew out his back, fracturing four ribs on its path out.
Another bullet struck him in an arm, shattering the humerus. A metal rod had to be inserted there. Johnise said Jondale's use of that arm is limited, but he is regaining some use through therapy.
The bullet that paralyzed him entered his body through the back and shattered his T6 vertebrae. Johnise said although he cannot walk now, she is hopeful because the wound shattered nerves but not his spine. She hopes there is a chance the nerves can regenerate.
She also is hopeful because of her son's age and the way medical science can advance rapidly, which possibly could find a way for him to walk again.
"It just depends on what his body does," Johnise said.
Tayquan Charlton, 20, was sentenced Jan. 10 to seven years in prison for the shooting at Hillman Street and West Ravenwood Avenue on the South Side that wounded Jondale and another person. That shooting took place several hours after a person was shot to death in an East Side home on Atkinson Avenue early in the morning.
That homicide was not related to the shooting that wounded Jondale.
Reports said Charlton was in a car when he shot at Jondale and the person with Jondale. Police never revealed a motive for the shooting, but they believe Jondale was not the intended target.
Crime-lab personnel recovered 11 9 mm shell casings at the scene, but the weapon has not been recovered.
Jondale, who was playing video games as well as juggling visits with his caseworker and a reporter recently, said the only wound he can remember feeling is the one in his arm, and he said the feeling was surreal.
"I felt it after it first happened," Jondale said. "It's hard to explain the feeling. There's nothing to compare it to."
Jondale's injuries also have disrupted the lives of Johnise and her family.
Johnise was working two jobs but has cut back to one now, and that is just three days a week on the weekends. Someone has to be around to watch Jondale and take him to therapy three times a week.
"It's draining on everybody. It's hard," she said one sunny morning in her living room, family pictures everywhere around her. "Everything is now scheduled around Jondale."
At therapy, besides the work on his arm, therapists also work on Jondale's leg to keep up muscle tone and circulation. At times, her son has feeling in his legs, but it is often not pleasant, Johnise said. She said if she ties her son's shoes too tight, for example, he lets her know about it.
"When he does feel it, it's not like a touch," Johnise said. "It's like a shock to the whole body."
Surgeons left bullet fragments in parts of Jondale's body when they repaired the damage because the fragments were not in a position to do any harm and also because they wanted to limit the amount of time they had him cut open.
Johnise said the initial surgery was 111/2 hours, and two hours after he was out of that surgery, he had to be operated on again because of complications from internal bleeding.
Because of Jondale's injury, Johnise said she is afraid she will be too overprotective of her 15-year-old son. She said she has to watch herself to make sure that is not a problem.
Jondale said he wants to go to college and major in business, but he also added he does not want to be stuck just doing one thing in life.
"I want to do everything," Jondale said.
More like this from vindy.com