Boardman Teams give to community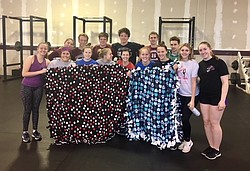 CONTRIBUTED PHOTOS

Photo
Members of Boardman Team Unity Building Team 1, above, front row, from left, are Aadia Brinkley, Gizzy Kelso, Ava Velasquez, Sarah Varga, Mia Bruno, Sarah Murray, Ali Kuras, Delany Notar and Maddie Connolly. Back row, from left, are Madison Riccuiti, Mason Rassega, Jake Thomas, David Giancola, Matthew DunLany and Siman Mascola.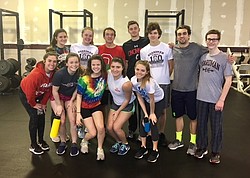 Photo
Above, BTUB Team 2, front row, from left, are Sydney Hull, Mikel Flatley, Anna Oliver, Allysa DiNapoli and Carly Amendola. Back row, from left, are Jordan Jones, Tyler Willliams, Steven Vasko, Callen Aulizia, Teddy Anzevino, Noah Basista and Andy Beichner. Below, Team 3 members, front row from left, are Abby Yocum, Jennah Markovitch, MacKenzie Widrig, Casey Wert and Bella Lonsway. Back row, from left, are Brendan Beam, Brendan Rutledge, Will Linker, Jordan Stackpole, Kyle Kimerer, Hailey Marcus, Julia Castellano, Megan Janak and Gaby Pantaleo.
Staff report
Boardman Boardman Swim and Dive teams recently completed their annual BTUB community service activities. Boardman Team Unity Building teams are led by senior swimmers or divers, who then organize and create activities that will benefit the chosen charity or nonprofit organization. BTUB Team 1 designed and created 16 blankets for children at Akron Children's Hospital. Teams leaders are Mia Bruno and Sarah Murray.
Swim and Dive Team 2 members volunteered at Angels for Animals. They cleaned windows, doors and cages, and cared for some of the animals. The team was led by Carly Amendola, Sydney Hull and Callen Aulizia
Brendan Rutledge, Hailey Marcus, Kyle Kimerer and Megan Janak lead Team 3. That team's members volunteered at the Salvation Army and also donated about 150 rolls of toilet paper to the organization.
More like this from vindy.com