Aut Mori Grotto installs officers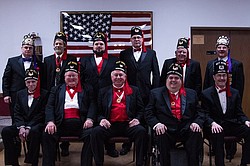 CONTRIBUTED PHOTO

Photo
Above, Aut Mori Grotto officers who recently were installed are, front row, from left, Dave Laverock, Dale Hawkins, Gary Shane, Dan Illenick and Richard Brady. Back row, from left, are Gary Farrant, Jim Humphrey, William Golec, Earl Neff, Dave Powell and Carmen Pompeii.
Staff report
YOUNGSTOWN
Gary Shane, newly elected Monarch of Aut Mori Grotto, Mystic Order of Veiled Prophets of the Enchanted Realm was recently installed along with his associate officers at the Grotto Hall in Youngstown. His fellow officers are Dale Hawkins, chief justice; Dan Illenick, master of ceremonies; Gary Farrant, secretary PM; Dave Laverock, venerable prophet; Richard Brady, orator; Dave Powell, marshal; Bill Golec, chaplain; James Humphrey, sentinel. Elected to the board of governors for three-year terms were Carmen Pompeii, PM, and Earl Neff, prophet. Max Pokorski, PM, was elected to a one-year term on the Board. Also elected or appointed but not present and to be installed at a later date were Sean Craig, treasurer PM; Charles Graham, captain of the guard; and J.J. Losasso, sentinel. Installing Officers of the Highland were Ed Shawver, PGM, and Ed Ross, marshal PM.
Monarch Shane is a past master of Wick Lodge 481 and a dual member of William Farr Lodge 672 where he is serving as senior warden. He is a member of the Valley of Youngstown Scottish Rite and member and officer in the York Rite Body Youngstown Chapter 93. Shane also is a member of the Beuchner Council 107; St. John's Commandery of Youngstown; High Twelve Club; Shannon Council; Tall Cedars of Lebanon of North America Forest 70; Al Koran Shrine; and Youngstown Shrine Club. He also is a deputy sheriff for Mahoning County.
The Grotto is an international organization of master masons that contributes to cerebral palsy and dentistry for physically challenged children under age 17. Locally, the Grotto supports Akron Children's Hospital, Sojourner House and other organizations.
The Grotto meets the first Wednesday of each month at the Grotto Hall. For information, call Gary Farrant at 330-519-1579 or any officer or member. Anyone interested must be a master mason and in good standing.
More like this from vindy.com