Reducing crime and reducing costs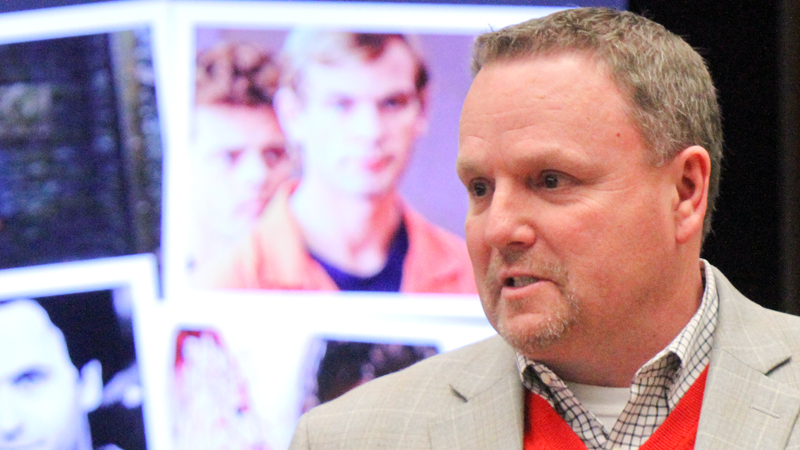 ---
YOUNGSTOWN
Stopping the cycle of victimization is something Robert Morgan discussed in his lecture at Youngstown State University.
Morgan spoke Friday afternoon about treating mental illnesses in criminal offenders in his lecture titled "Treating Justice Involved Persons with Mental Illness in Forensic, Correctional and Community Settings."
Morgan is chairman and John G. Skelton Jr. Regents endowed professor in the Department of Psychological Sciences at Texas Tech University.
His lecture was part of the Mahoning Valley Mental Health Speaker Series.
Morgan and a team of researchers work to find the most effective ways to treat mental illnesses in all kinds of criminal offenders to prevent them from continuing to commit crimes.
The importance of doing what Morgan does is twofold: reducing victims and reducing cost.
"We want to reduce crime because that reduces victims," he explained.
Part of being a victim of any kind of a crime is the emotion and the fear that accompanies a feeling of violation.
"There's a certain personal toll on a person [who is a victim], and then there's a financial cost and a time cost to that person who is now a victim of a crime," Morgan said.
The associated cost, both to the victim and to the society that is responsible for punishing a criminal offender, is also lower with the right treatment in place for the offender.
In Texas, Morgan said, he found an estimate of every 1 percent reduction of crime saves $10 million.
"The costs in criminal justice is just astronomical," he said.
Morgan said sharing his findings about best treatment methods is relevant for not only staff to teach, but also students to learn.
"Students are those who will be going out to work in the field, and we are educating them to provide the right service," he said. "Here at YSU and other academic campuses, we have the future leaders of the world, and we want to make sure they're equipped."
A social worker of 29 years, Theresa Swindler, YSU field education internship coordinator, said learning about the most-effective treatments for criminal offenders who are mentally ill just makes sense.
"It's the best practice to have – people who come in and practice an actual rehabilitation service," she said. "It's better than just having people who are offenders going in and out of jail and never getting to the root of the problem."
More like this from vindy.com