Summary of recent criminal activity in Poland and Boardman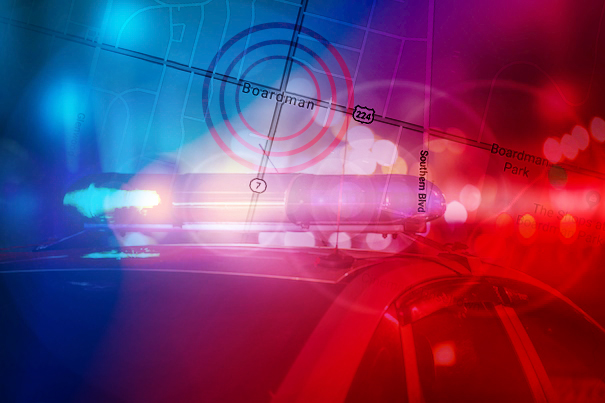 ---
POLAND
Jan. 18
Theft: A woman reported $162 missing from her Fairweather Trail home.
Jan. 21
Criminal damaging: Roughly $500 in damage was done to baseball fields and artificial surfaces in the township.
Trespassing: Someone reportedly trespassed on a piece of property on Hummingbird Hill Drive.
Jan. 22
Burglary: To a residence in the 8600 block of Chesterton Drive through a rear sliding-glass door. Jewelry and assorted gift cards were taken.
BOARDMAN
Jan. 18
Aggravated menacing: Austintown police handed to Boardman authorities Christopher S. Giles, 42, of Purdue Street, Austintown, who was wanted on charges of aggravated menacing and telephone harassment, related to a Jan. 18 situation in which his former girlfriend alleged that after having ended their relationship last month, Giles has made and sent between 60 and 80 unwanted daily calls and text messages to her. Also, Giles recently told the accuser he would kill her and her two daughters then himself, the victim further alleged.
Domestic violence: John D. Jarmon Jr., 30, of Erskine Avenue, Youngstown, was charged with the crime after his wife alleged that during an argument about their relationship, Jarmon threw her down on a couch, then grabbed and shook her.
Theft: Mina L. Fatzinger, 67, of Tyrell Street, Youngstown, was charged with stealing about $441 worth of merchandise that included children's clothing from Kohl's, 383 Boardman-Poland Road.
Assault: A Campbell man told police another man pushed him to the ground, causing the accuser to fall backward, in a Doral Drive grocery store.
Harassment: An Afton Avenue man said he's received several such text messages and calls.
Breaking and entering: Authorities took custody of Michael A. Carosella, 33, who faced a breaking-and-entering charge. Carosella, of Willis Avenue, Youngstown, was accused of breaking into Dollar General, 859 E. Midlothian Blvd., last September and taking $2,152 worth of cigarettes.
Burglary: Took place in the 1900 block of Wingate Road via a side door. Several tools were missing and, when the homeowner returned, she reportedly discovered that several lights and a TV were on that had not been when she left.
Theft: A resident in a Market Street nursing home discovered $32 missing from a safe in his room.
Jan. 19
Assault: Police responded to a fight in the 20 block of Southwoods Avenue, where a man reported four males had jumped the accuser and a friend at the apartment.
Drugs: While answering a complaint about possible drug use in front of children at a Charles Avenue residence, police issued a minor-misdemeanor citation charging Kain Elisier, 20, of Charles, Boardman, with having a device commonly used to grind marijuana and a pipe for drug use in the home.
Arrest: A traffic stop in the 5900 block of South Avenue resulted in the arrest of Yunique A. Jones, 20, of Kansas City, Mo., who was wanted on a local warrant charging her with assault.
Felonious assault: A township man alleged that during an ongoing argument with his girlfriend, she bit the accuser and stabbed his right shoulder area. The girlfriend alleged the man had strangled her, though no charges had been filed at the time of the report and neither sought medical attention.
Theft: A man and a woman reportedly took $341 worth of jewelry from Hobby Lobby, 1136 Boardman-Poland Road.
Fraud: A loss-prevention official with Kohl's told police a woman had used someone else's credit card over an eight-day period at the store. The woman reportedly later bought and used gift cards to make seven additional transactions at three other Boardman stores that came to $1,450. The total fraudulent activity was about $26,100, a police report showed.
Criminal damaging: A vehicle at a Boardman-Poland Road restaurant was found with a broken windshield wiper.
Drugs: Police in Columbiana picked up Edward A. Cassinger II, 42, of Creek Road, New Waterford, who was wanted on a felony drug-abuse charge, related to a July 21, 2017, incident in which a man was found slumped in a vehicle in the 7300 block of Market Street. Found in the car was a small smoking device and a 4-gram package of a synthetic cannabinoid blend, a report stated.
Theft: A woman in a Market Street long-term care facility realized $280 had been removed from her room without permission.
Jan. 20
Domestic violence: Mark R. Planey Jr., 28, and Brian K. Patterson, 44, both of Havenwood Drive, Boardman, were charged after officers reportedly responded to a fight between them. Patterson alleged Planey had knocked him to the ground, then struck and kicked him; Patterson's wife alleged that while en route home, her husband elbowed her in the face and forcibly pushed her head against the interior of the car.
Drugs: Youngstown police transferred custody of Isaiah D. Nuckles, 21, to Boardman authorities. Nuckles, of Cooper Street, Youngstown, faced a drug-abuse charge from a traffic stop earlier this month when, officers alleged, Nuckles admitted he had in his pocket half of a pill for which he had no prescription.
Citation: After pulling him over on Market Street, officers handed a minor-misdemeanor citation to Morgan S. McCaskey, 21, of Fountain Square Drive, Austintown, after alleging a suspected marijuana cigarette was found.
Theft: Joann C. Collins, 40, of Lincoln Avenue, Struthers, was charged, accused of taking $46 worth of pork chops and other food items from Walmart, 1300 Doral Drive.
Citation: Mohammed Almaraihah of Meadowbrook Avenue, Boardman, was cited during a traffic stop on Market Street when, police alleged, Almaraihah, 22, had suspected marijuana in his pocket.
Theft: A traffic stop on Market Street resulted in the arrest of Bertan E. Altinordu, 29. The Akron man was wanted on a theft warrant from Boardman Area Court.
Stolen property: Authorities charged Mindy R. Boughamer, 37, of North Park Avenue, Warren, with receiving stolen property after she returned from Walmart to a truck on which police were conducting a license-plate check, then reportedly admitted having stolen $286 worth of merchandise while in the big-box department store.
Drugs: Police near Hillman Way pulled over then charged Venise L. Thomas, 43, of North Glenellen Avenue, Youngstown, with two counts of possessing dangerous drugs and one of drug possession. Thomas had 0.1 grams of suspected marijuana, along with several over-the-counter pills with no prescription, authorities alleged.
Theft: Jamesha L. Williams, 18, and Brandy R. Johnson, 23, both of Lakewood Avenue, Youngstown, were charged with stealing about $123 worth of clothing and other property from Walmart. Johnson also was wanted on a probation-violation charge.
Jan. 21
Animal complaint: An Indian Trail man told officers two stray dogs had attacked his dog as he walked the animal.
Theft: Andrea L. Brimmer, 35, of Ohio Avenue, Youngstown, and Shamika N. Dubois, 33, of West Delason Avenue, Youngstown, were charged in the theft of $723 worth of merchandise from Sally's Beauty Shops, 395 Boardman-Poland Road. Dubois, who also was wanted on a Niles warrant, faced a drug-abuse charge when, authorities alleged, she had a pill in her pocket that was determined to be Tramadol, a narcotic commonly used to treat moderate to severe pain.
Arrest: While assisting a motorist with a flat tire on U.S. Route 224, officers charged Montrail D. Berry, 29, of Taft Avenue, Youngstown, with obstructing official business after saying Berry refused several times to sign a citation charging him with driving under suspension, then refused to cooperate during the booking process.
Menacing: A Willow Drive woman reported her former boyfriend's girlfriend sent her multiple such text messages and threatened to beat her up.
Theft: Two women in the mid-20s reportedly left Red Lobster, 1410 Boardman-Poland Road, without paying their $105 food bill.
Felonious assault: A Boardman man alleged that during a fight with his wife, she backed out of their driveway and attempted to strike him with her vehicle before driving away. The accuser was not injured, however.
Theft: Police charged Aya H. Awadallah-Ali, 23, with theft after alleging Awadallah-Ali, of Edenrock Avenue, Canfield, intentionally failed to self-scan $87 worth of groceries while at Walmart.
Theft: A 17-year-old township boy was accused of taking about $90 worth of property that included an Xbox charger from Walmart.
Jan. 22
Aggravated menacing: A Boardman woman told authorities her daughter's former boyfriend drove past their residence multiple times, then threatened to shoot at the home and kill those inside.
Theft: A Poland man reported $77 worth of merchandise stolen after he left a Doral Drive grocery store.
Citation: Lawrence Adkins, 51, of Sprucevale Road, East Liverpool, was cited during a traffic stop on Market Street when, police alleged, he had a pill bottle that contained a bag of suspected marijuana.
Theft: A man reportedly took $903 worth of property, including a laptop computer and a home security system, from Sam's Club, 6361 South Ave.
Theft/vandalism: A catalytic converter was removed from a box truck, which also sustained about $1,000 in damage, at a Market Street business.
Citation: While dealing with a suspicious vehicle in the 5500 block of Market Street, officers cited Jabar T. Blackmon of Ferncliff Avenue, Boardman, after alleging Blackmon, 19, had a suspected marijuana cigar.
Domestic violence: Miranda L. Ohl, 25, of Elm Street, Struthers, was charged after her boyfriend alleged Ohl had struck him several times at his place of employment at a South Avenue business, then refused several times to leave.
Theft: Alvin P. Traylor, 50, of Detroit Avenue, Youngstown, faced charges of theft and possessing criminal tools after $619 worth of shoes and jackets was stolen from Burlington Coats, 529 Boardman-Poland Road, and when, authorities alleged, Traylor also admitted having used a pair of pliers to cut the price tags. Also taken into custody was Orlanda M. Dodson, 51, same address, who was wanted on warrants charging complicity to theft and a probation violation.
Jan. 23
Domestic violence: Anthony R. Campbell, 24, of South Avenue, Boardman, was charged after his wife alleged Campbell had assaulted her and made unwanted sexual contact with the accuser, despite having been told several times to stop.
More like this from vindy.com