Lowellville "superheroes" teach students good character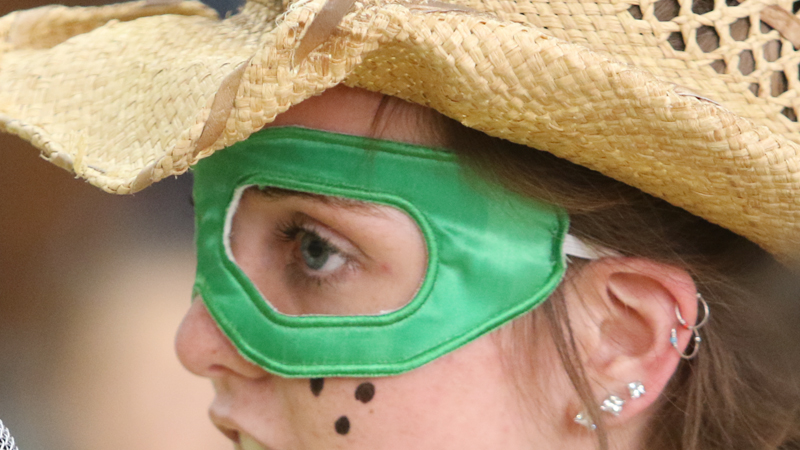 ---
LOWELLVILLE
Slightly more than 250 Lowellville kindergarten through sixth-grade students erupted into cheers as the "Character Avengers" – high-school students portraying superheroes exemplifying good character traits – burst into the school's gym.
Students seated on the gym's bleachers reached out to the "superheroes," hoping for a high-five or a handshake. The costumed students were happy to oblige.
Over the course of the Friday afternoon assembly, 57 students in grades one through six were awarded wristbands by the superheroes for displaying good character.
The student superhero group is a part of Lowellville K-12 school's Character of Excellence program, a schoolwide initiative to encourage and challenge students to develop positive character traits.
Robbin Carlos, a health, physical education and wellness instructor with 24 years in the school district, began the program as a way to promote positivity in a world she saw as becoming increasingly negative.
"It takes a tribe to raise a child, and there are certain lessons that students need to learn that aren't purely academic," she said. "I want our students to excel both in academic skills and in the life skills they need to become positive members of society when they're adults."
Two of the students who earned rewards during the assembly, D.J. West, 7, and Ava Lopez, 8, said they won for being fair to other students.
The program grew out of a Wellness Club that Carlos began at the school, and the students who currently portray the superheroes were originally club members.
"It wasn't easy to pick this team. I'm putting a lot on their shoulders," Carlos said.
"But they're amazing students – all multisport athletes, all of them involved in extracurriculars. I can't say enough good about them."
The students' heroic personas are Colonel Care, Rodeo, Flora, Incredible Citizen, IQ and Captain Trust, which exemplify care, responsibility, fairness, citizenship, respect and trust, respectively.
Cora Clinton, 18, who portrays Rodeo, has been with the program since its inception, and said she enjoys being a part of the group because she feels like she's actually making a difference in her community.
"It's grown since we started. We've got more and more kids participating in the program now," Clinton said.
"It makes me feel amazing when I see the kids reactions."
In addition to Clinton, the other high-school superheroes are portrayed by Vincent Kacir, 16, Bryan Harris, 17, Jessica Grow, 18, and Tanner Stellmar, 17.
In addition to passing out awards for younger students, the Character Avengers also visit classrooms, walk the school halls in costume to greet students, and participate in community activities outside of the classroom, like the school's FitKids after-school program.
"The support from the community and my colleagues has been instrumental to our program," Carlos said.
"The program isn't based on finding the top athlete or the smartest student. Everyone can show good character, so everyone can be a part of the program. If we're successful, we'll grow."
More like this from vindy.com