---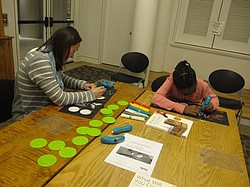 Photo
Neighbors | Zack Shively.The 3D pen worked like a 3D printer. They placed plastic material in one end of the pen and the the other end sent out a stringy plastic that one can design with. Pictured from left, Alison Graf and Kennedy work on their 3D art.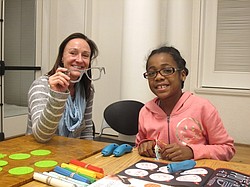 Photo
Neighbors | Zack Shively.The Austintown library's 3D pen set includes rechargable pens, material, activity books and molds. The books and molds help to make things, such as Alison Graf's glasses and Kennedy's helicopter.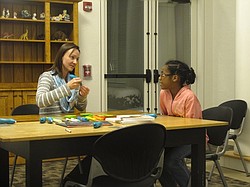 Photo
Neighbors | Zack Shively.The Austintown library had a program on Jan. 16 for teenagers to learn how to use a 3D pen. Librarian Alison Graf organized the event.
By ZACK SHIVELY
The Austintown library invited the community to work on three-dimensional art with the library's set of 3D pens on Jan. 16.
Austintown librarian Alison Graf prepared for the event in the small meeting room by charging the pens and making sure the materials were present. She also laid out an activity book and another instructional book.
The pen used a plastic material to create string with which one can make art. The device worked similar to a 3D printer. The pen pulled a stick of material through the back end and the stringy product came through the front end, like ink coming to the front of a pen.
The activity book allowed for artists to draw right on the book to make their work. The guide showed how to create objects such as a guitar, dinosaur and butterfly. Graf said that she once had a person use the book to make the Eiffel Tower during an event.
Along with the book, Graf also had place mats and molds to draw on. The place mats allowed for a free drawing and testing. For example, an artist could use the place mat to write a name in 3D. The molds had shapes in them that an attendee could fill to make objects. In the past, a child used the mold to make a robot, Graf said.
The pens, molds and the activity book come from a 3Doodler set, which the library received in November 2016. Graf and the other librarians have occasionally used the set with the groups of students who come to the library after Austintown schools dismiss for the day.
Graf thought to do a program and open it to the community instead of just having the after-school students use it. She scheduled an event in the summer of 2017 at the Tri-Lakes branch. The event filled up, so she decided to do it again at Austintown's branch.