PSHS presents spectacular holiday concert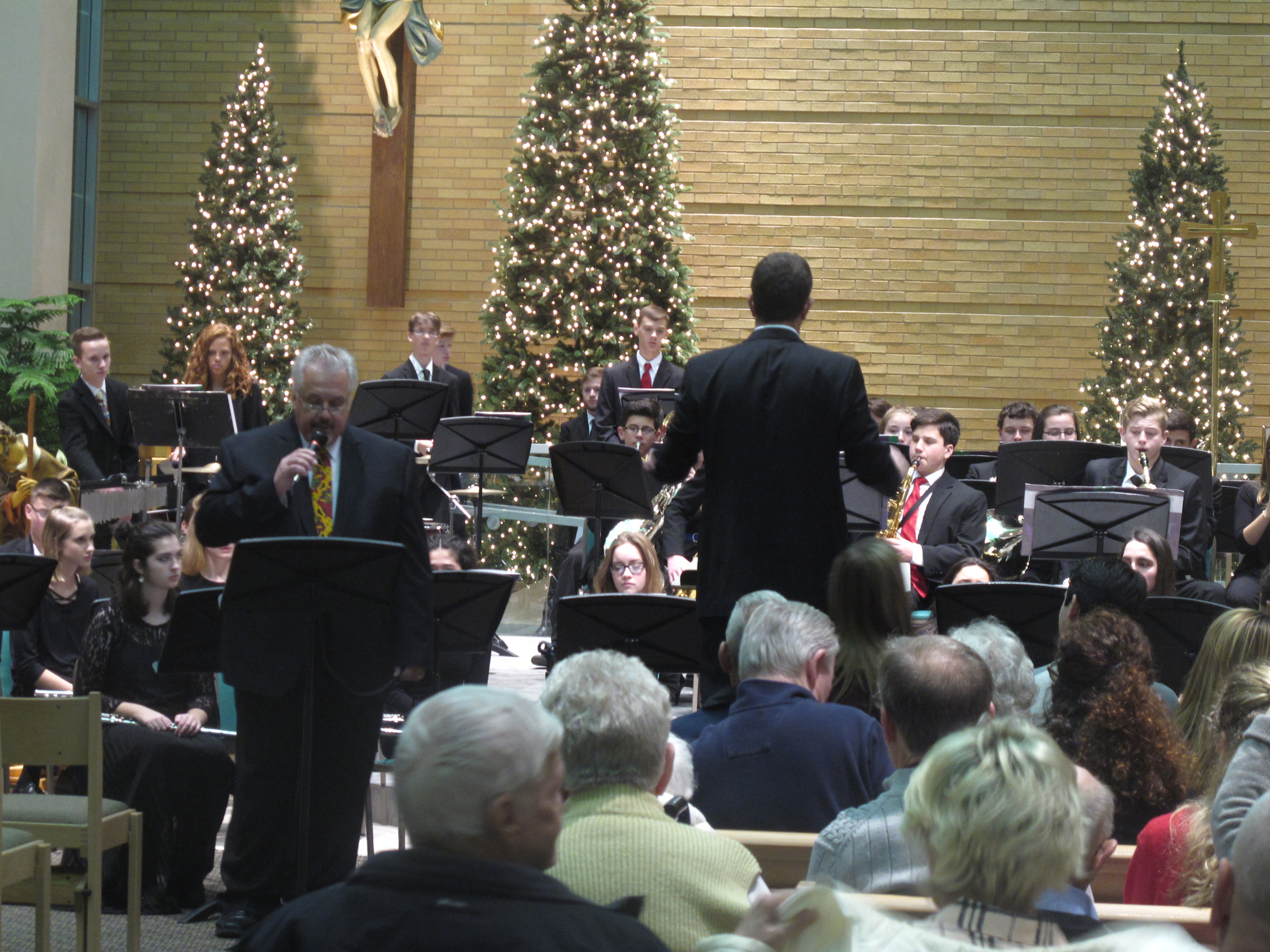 ---
By ZACK SHIVELY
Poland Seminary High School presented its winter concert, "A Holiday Spectacular and Sing Along," at Holy Family Church on Dec. 16.
The concert included performances from the concert band and choir, with selections from smaller ensembles within the two groups. Jeff Hvizdos directed the bands and Shannon Nicholson instructed the choirs.
A member of Holy Family Church welcomed the audience to the concert as the band prepared to play. Hvizdos also spoke before going into "A Christmas Flourish," a James Curnow arrangement for the wind ensemble.
The next song, "Yes Virginia, There is a Santa Claus," required some introduction. Composer Robert W. Smith wrote the song based on an editorial piece published in The Sun. The article responded to a young girl's inquiry about whether or not Santa exists. During the song, Jim Penney read the editorial while the band played behind him.
The PSHS A Cappella Choir sang "Carol of the Bells" and "Mary, Did You Know?" after. The school just recently added the a cappella group to their program. Four students from the choir combined on back-to-back duets of "Baby, It's Cold Outside" and "Love and the Weather."
A saxophone quartet followed the duets. They performed "Jingle Bells," as arranged by Ryan Meeboer.
The concert choir performed a set of songs following the quartet. They began the set with "Carols Around" and "Grown Up Christmas List." Soloist Sarina Krell sang the traditional "O Holy Night," which they followed with the concert choir's performance of "Once Upon a December." The a cappella choir joined the concert choirs for group singing of "Have Yourself a Merry Little Christmas."
The choirs and the wind ensemble performed together for Steven Reineke's "Merry Christmas Everyone." The song included verses from the songs "O Come, All Ye Faithful," "Hark, the Herald Angels Sing," "Angels We Have Heard on High," "Joy to the World" and "Silent Night." The program had the lyrics inside and Hvizdos encouraged the audience to sing along with the choirs.
The concert finished with the concert band's playing of "Sleigh Ride" and "Feliz Navidad."
The arrangement of the latter song gave it a quick tempo with an infectious beat, as the audience and choirs clapped along with the song.
More like this from vindy.com