Friends of Fido is asking people to show some love for pound pups for Valentine's day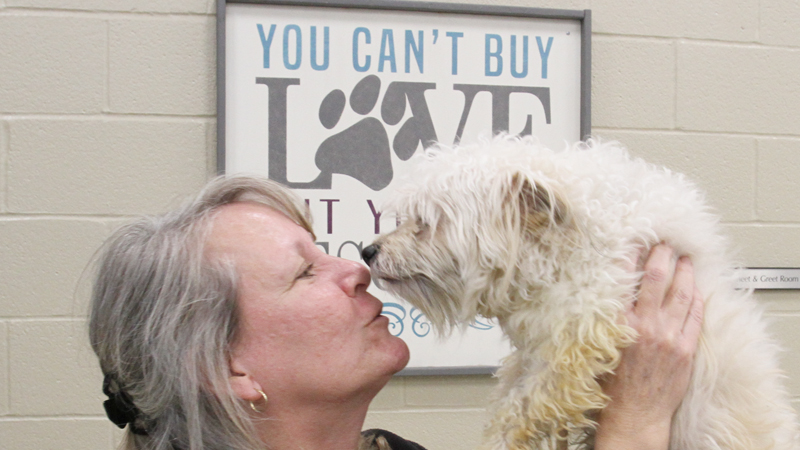 ---
By SAMANTHA PHILLIPs
YOUNGSTOWN
Friends of Fido is asking the public to show some love for pound pups by sending them a Valentine's Day card with a donation of a dollar or more.
This is the fifth year of the volunteer organization's annual Valentine event. Trish Collins, president of Friends of Fido, said anywhere from $4,000 to $10,000 is typically received – and it all goes toward caring for the dogs.
"It's been a very positive experience," she said.
The nonprofit Friends of Fido helps dogs get rescued.
Just last week, the organization spent $5,000 to treat parvovirus in a litter of abandoned pit-bull puppies brought to the Mahoning County Dog Pound. Last year, the veterinary bills totaled $50,000. The Friends rely upon fundraising and donations to keep dogs healthy and give them a better chance at being adopted.
The organization and the pound aim to take care of any physical or behavioral treatment that is needed to ensure the dogs will go to a loving, permanent home.
"Everyone can get involved. Teachers get involved by doing this with their kids in the classroom, Boy Scouts and other groups get involved, individuals get involved," Collins said. She noted one woman recently donated $62.
Vet care is costly, and most dogs taken in by the pound need it. Recently, Collins said a dog with a tumor in its eye was taken in, and the treatment cost $3,000.
Pound dogs are treated for everything from diseases to frostbite and gunshot wounds, and some four to five dogs are taken to the vet per week, according to Collins.
People tend to donate blankets and other items to the pound, but donating money is more beneficial for the dogs, said Dianne Fry, Mahoning County dog warden.
"Money is the most important thing, because we need things like medication. Money saves more lives," Fry said.
The adoption fee is $150, and that covers neutering or spaying, a heartworm test, vaccinations and a license for the dog.
Fry is grateful for the help Friends of Fido provides through programs such as the Valentine's Day card event.
"Our euthanization rate would be double if it weren't for Friends of Fido. The dogs that get veterinary care thanks to them would have to be put down because we don't have the funds for it," Fry said.
The pound has seen a boost in adoptions since the last Valentine's Day fundraiser, thanks to its new facility.
In November 2017, the pound moved from its 9,000-square-foot site on Industrial Road to its new 14,000-square-foot location on Meridian Road. The new pound has better kennels and more space for the dogs to get exercise.
"But what we want is for these dogs to find happy, loving homes," Fry said.
Valentines and donations can be mailed to P.O. Box 14155, Poland, OH 44514. For information, visit friendsofmahoning.org or petfinder.com/shelters/OH599.html. The fundraiser will last until Feb. 14.
More like this from vindy.com