Crocheters make rugs at the library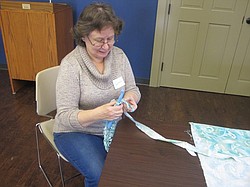 Photo
Neighbors | Zack Shively..The Boardman library's All About Yarn class began a "rag rug" project in November and finished it in December. The project asked the participants to make a rug out of old clothing. Pictured is Cynthia Wagner as she began crocheting together her rug.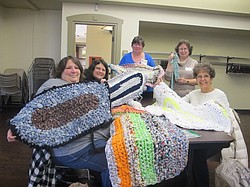 Photo
Neighbors | Zack Shively.The group at the All About Yarn program at the Boardman library on Dec. 8 finished their "rag rug" projects and learned how to add a non-slip material to the bottom. Pictured are, clockwise from front left, Dorothy Sabol, Gretchen Vargas, Karen Saunders, Cynthia Wagner and Eva Pavlov.
By ZACK SHIVELY
Participants at the Boardman library's All About Yarn event finished their rugs on Dec. 8 that they had started the previous month.
Karen Saunders taught beginner-level crocheters how to make a "rug rag," a rug made out of older clothes to upcycle unused cloth. The participants' rugs took an oval shape, but they could have made a rectangular shape if they had wanted.
Some participants brought in old shirts or sheets to make their projects. They cut the material into strips and crocheted the rug together. The crocheted style gave the rugs an unusual texture to them.
Saunders used the theme of a "rag rug," but she explained that the participants could use yarn to make normal rugs. One of the members of the event in November came to the event in December with a crocheted rug made of vintage yarn.
The participants talked about their lives during the event. Two mothers talked about motherhood, and a third member whose children were older talked about how she raised her children. They laughed and connected whole working on their rugs.
The majority of the group had begun their projects in November and used the time between the All About Yarn meetings to finish their rugs. One new member came to the meeting and Saunders helped her begin her project. The others learned how to stitch non-slip material onto the bottom of the rug to prevent it from moving too much while in the house.
Saunders has had All About Yarn classes all throughout the year. She will begin 2018 with a class on peg loom weaving on Jan. 25.
More like this from vindy.com