Come Stay and Play Pet Resort celebrates 10th anniversary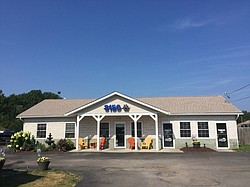 Photo
Neighbors | Submitted .Come Stay and Play Pet Resort, located at 3150 S. Raccoon Road in Canfield recently celebrated its 10th anniversary.
This past November marked Come Stay and Play Pet Resort's 10th anniversary.
In 2007, Bill and Darlene Lowery opened the resort after retiring from Giant Eagle in 2005. It is managed by their daughter, Julia Gunger, who is a certified pet technician and former dog trainer.
The office and boarding facility covers 4,300 square feet of space. It was constructed by general contractor J. Herbert of Salem based off of the Lowery's plans.
The facility boasts dog boarding runs that are 4 feet by 7 feet inside with finished epoxy flooring, radiant heat and central air condition, as well as built-in rest benches, music and 4 feet by 10 feet outdoors covered runs with overhangs. Special services such as essential oil messages, scrambled eggs with Beggin' Strips, bagels and peanut butter and doggy ice cream sundaes are offered.
Cat boarding is offered in a separate room. There are ten condos with a view of the outside water fountain.
The resort also offers two individual self-serve pet washes, open 24/7, that are accessible from the outside. They are heated and air conditioned, and customers can choose from three different shampoos, a conditioner and may use an air dryer.
The dog and cat grooming area was recently renovated with hydraulic grooming tables, stainless steel kennels and two professionals bathing tubs manned by three certified groomers, Missy Glancy, Kage Coven and Rebecca Klein. They have more than 25 years of combined grooming experience. Extras available include seaweed "pawdicures," temporary coloring and earrings.
For more information, call 330-799-2166 or check out their website at csppetresort.com.
More like this from vindy.com