Canfield swim and dive competes at the AAC Championship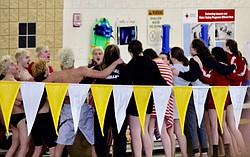 Photo
Neighbors | Submitted .The Canfield swim team is pictured cheering before the AAC championship on Jan. 13.
The AAC Swimming and Diving Championships took place on Jan. 13 at the Warren G. Harding High School natatorium.
Ten teams competed at championships, and the Canfield boys team earned runner-up while the girls team took fifth place.
For the boys, the 200-yard medley relay team of Matthew Peckman, Joe Klepec, Rob DiDomenico and Bobby Kutsch placed fourth. The 200-yard free relay team of Cullen Brady, Matthew Peckman, Jason Paris and Kam Sarac took second place. The 400-yard free relay team of Bobby Kutsch, Jason Paris, Cullen Brady and Kam Sarac also took second place.
Individual results for the boys were, in the 200-yard individual medley, Joe Klepec placed third; Kam Sarac placed third as well in the 100-yard butterfly; Cullen Brady came in second in the 100-yard freestyle and Bobby Nutsch place third in the 500-yard freestyle. For the girls, in the 50-yard freestyle, Sydney Schuler placed second.
More like this from vindy.com