American dream now reality for 9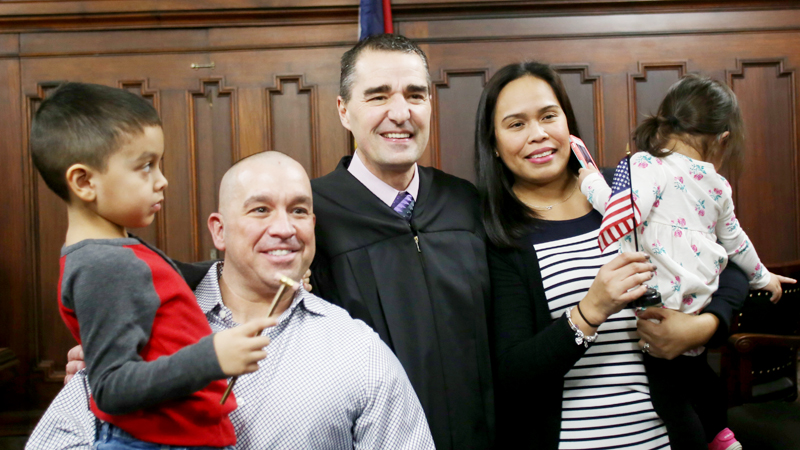 ---
By JUSTIN WIER
jwier@vindy.com
YOUNGSTOWN
Emotion was palpable Thursday at the Mahoning County Courthouse as nine people took their oath of allegiance and became U.S. citizens.
Judge Robert N. Rusu of Mahoning County Probate Court presided over the ceremony. He told the new citizens – hailing from countries including the Philippines, Russia and the United Kingdom – that immigration makes America great.
"You may hear in the news that certain people want to shut off the border, build a wall and keep people out of this country," Judge Rusu said. "The majority of Americans do not hold those opinions. That's just noise."
After Judge Rusu's remarks, Kathi McNabb Welsh, county clerk of courts chief deputy, administered the oath of allegiance.
The new naturalized citizens then received their certificates of citizenship, an American flag and shook hands or exchanged a hug with Judge Rusu.
Cynthia Rogers, a producer at 21 WFMJ-TV, The Vindicator's broadcast partner, was among those who became a citizen.
"I was a lot more emotional than I expected to be," Rogers said. "It means a lot to me."
She said the current political moment led her to go through the process of becoming a citizen after moving to the U.S. from Canada about 20 years ago.
"It's important to me because I really wanted to have my own voice," Rogers said. "I've been here for 20 years. Now is the time to say this is what I'm going to do."
After the ceremony, many of the participants, including Rogers, lined up at a table in the lobby to register to vote.
Joseph Odonkor, who moved to the U.S. from Ghana in 2011 to pursue greater educational and career opportunities, expressed his gratitude to everyone involved.
"I'm very grateful I have this opportunity," Odonkor said of becoming a U.S. citizen.
The judge encouraged Rogers, Odonkor and others to continue to celebrate their own cultures while upholding the beliefs and ideals upon which the U.S. was founded.
"I want to welcome you as citizens of the United States," Judge Rusu said. "And I challenge you to make it better."
More like this from vindy.com