To brighten up the gray winter indoors, use colorful, flowering houseplants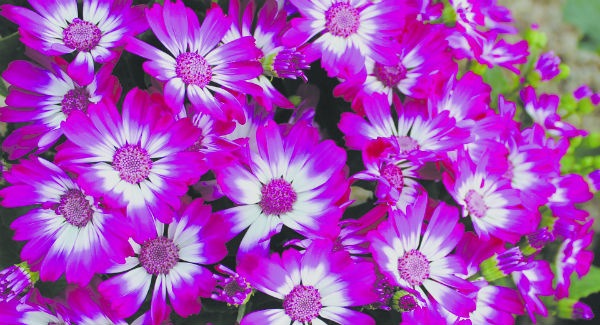 ---
By Sara Scudier
OSU Ext. master gardener volunteer
CANFIELD
Flowering houseplants can help brighten the long, gray days of winter. Cinerarias, cyclamens, primroses and azaleas are often available in mid-winter to early spring.
For longer bloom time, select plants with lots of buds and just a few open flowers, and provide good care.
Cineraria produce clusters of 1- to 3-inch-diameter, daisy-like flowers. They are available in a wide range of colors, including pink, red, lavender, purple and blue. Many flowers have white "eyes."
They should be placed in bright, indirect light with a temperature near 60 degrees Fahrenheit. Keep the potting soil evenly moist, but not saturated. If the potting soil becomes dry, the plant will wilt rapidly and may die if not promptly watered. They will flower for two to four weeks if given good care. After the flowers dry and shrivel, discard the plants.
Cyclamen have dark green, heart-shaped leaves with silver markings. The flowers, produced on long stems held above the foliage, point downward and somewhat resemble badminton shuttlecocks or "birdies." Flowers can be white, pink or red. Place them in a brightly lit location. Temperatures between 55 and 65 degrees Fahrenheit are ideal.
Keep the soil moist, but avoid getting water in the crown of the plant as it may promote rotting. Fertilize the plant with a dilute fertilizer solution every two weeks while in bloom. If given good care, plants will bloom for several weeks.
Primroses produce attractive, 1- to 1 Ω-inch-diameter flowers above a rosette of leaves. Flowers may be white, yellow, orange, pink, red, purple or blue. Many flowers have contrasting centers or "eyes."
Display plants in a cool, brightly lit location. Keep the potting soil evenly moist. Primroses decline rapidly if the soil dries out completely or remains constantly wet. With a proper environment, primroses often bloom for several weeks.
Place azaleas in brightly lit, cool locations in the home. An ideal site is one near a window that receives bright light (but no direct sunlight) and temperatures of 60 to 65 degrees Fahrenheit.
Proper watering is important for an azalea. Water needs can be determined with the finger test. Check the potting soil daily with your finger and when the soil surface becomes dry to the touch, water the plant until water begins to flow out the bottom of the pot. Discard the excess water.
The azaleas sold by florists are not winter hardy outdoors in Ohio.
For a step-by-step guide to growing these houseplants and more, visit http://go.osu.edu/floweringhouseplants.
More like this from vindy.com