UPDATE | Family disputes ICE claim that Adi has ended hunger strike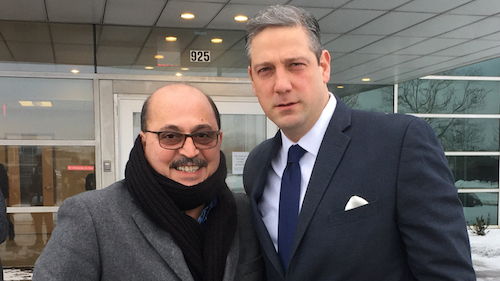 ---
YOUNGSTOWN — U.S. Immigration and Customs Enforcement officials said today that Amer "Al" Adi Othman ended his hunger strike Tuesday, but his family disputes this account.
After eating Tuesday, Adi "was subsequently removed from hunger strike protocols," today's ICE statement reads. "He continues to be monitored closely by on-site medical professionals at the Northeast Ohio Correctional Center.
The family disputes ICE's claim.
"They put a meal in front of him and ICE told him if he eats they will release him," said Lina Adi, Al's daughter.
She said he took one teaspoon of the food before refusing to continue.
"Then he said, 'No, you guys already played with me. I shouldn't be here in the first place," Lina Adi said.
ICE officials greeted Adi, 57, last Tuesday before what was expected to be a routine meeting with a declaration that he would be taken into custody to await deportation back to Jordan – where he left at 19.
A day later, the Judiciary Subcommittee on Immigration and Border Security voted to request a report from the Department of Homeland Security that will inform the committee as to whether to pass a bill offered by U.S. Rep. Tim Ryan of Howland, D-13th, that would grant legal permanent residence for Adi.
Under past administrations, this type of passage has resulted in delays of deportation for six-to-nine months and it triggers the Department of Homeland Security to conduct an investigation into a private case, Ryan said at the time, adding he expects President Donald Trump's administration to honor the will of this committee and follow the same precedent of past administrations.
However, ICE officials also announced today "After conducting a comprehensive review of Mr. Othman's case, including careful consideration of the Chair of the Judiciary Committee's request for an investigative report, ICE has chosen not to grant a stay of removal in his case."
The ICE statement repeats the statement that Adi "will remain in ICE custody pending removal from the United States."
The statement today also adds "While ICE acknowledges Congress's authority to pass legislation providing immigration benefits to non-citizens, alien beneficiaries need not be present in the United States for a private immigration relief bill to be introduced, considered, and/or enacted. An alien who is granted relief through the enactment of a private immigration bill can lawfully travel back to the United States."
This is a breaking news story. watch Vindy.com for updates.
More like this from vindy.com