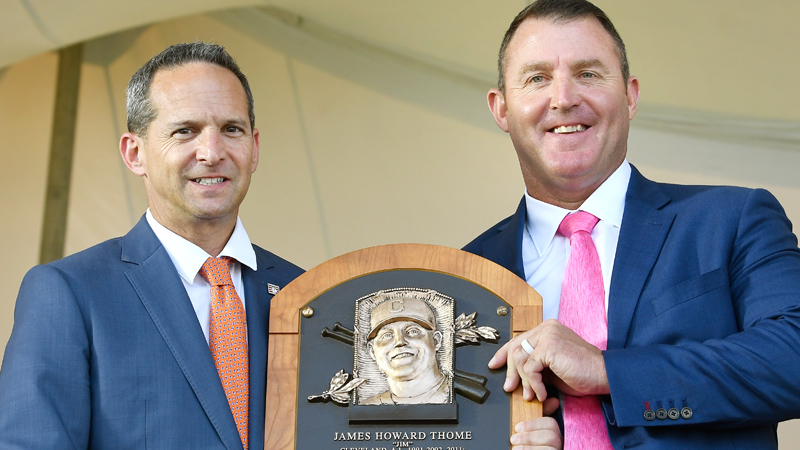 ---
Thome, Hoffman, Jones, Guerrero get in
Associated Press
NEW YORK
More than 600 home runs. More than 600 saves. A .300 career average.
In the age of baseball analytics, there's still room in the Hall of Fame for big, round numbers you can count on.
Chipper Jones, Jim Thome, Vladimir Guerrero and Trevor Hoffman were rewarded Wednesday, easily elected in the newest class headed for Cooperstown.
"I don't know how you tabulate or calculate WAR," Jones said, referring to a sabermetric stat that didn't exist for much of his career.
"Yes, you can dig deeper," he said. But he added: "What I want to see is batting average, on-base percentage, runs produced."
Designated hitter Edgar Martinez came close after a grass-roots campaign to promote him. Boosted by advanced metrics, he'll get his last chance on the ballot next year.
Barry Bonds and Roger Clemens, both tainted by the steroids scandal, edged up but again fell far short.
Thome hit 612 home runs, ranking him eighth on the career list, and launched a record 13 walk-off homers. The five-time All-Star played mostly for the Cleveland Indians.
Thome was known for his pre-swing routine, standing absolutely still in the box while pointing his bat at the pitcher. He said the posture helped him relax, slow down and "not be so tense."
The slugger praised his longtime hitting coach, Charlie Manuel, for all the work they did together.
"It's about sweat equity, and getting after it," Thome said on MLB Network.
A switch-hitter who batted .303 with 468 home runs, Jones was an eight-time All-Star third baseman for the Atlanta Braves.
He was a force for most of the Atlanta teams that won 14 straight division titles — his election put another member of those Braves clubs in the Hall, along with pitchers John Smoltz, Tom Glavine and Greg Maddux, manager Bobby Cox and general manager John Schuerholz.
Of the four new members, Jones was the only one to win a World Series. He joined Ken Griffey Jr. as the lone overall No. 1 draft picks to reach the Hall.
Jones and Thome made it 54 players elected in their first year of eligibility by members of the Baseball Writers' Association of America. Jones drew 97.2 percent (410 of 422) of the vote and Thome was at 89.8 percent — 75 percent is needed for election.
"It was waterworks," Jones said after receiving the call.
Guerrero was elected in his second try, getting 92.9 percent. The nine-time All-Star played half his career with the Montreal Expos.
The outfielder batted .318 with 449 homers and 1,496 RBIs, and was a notorious bad-ball hitter. He said he developed that talent as a kid in the Dominican Republic, playing a game similar to cricket in which hitters swung broomsticks while pitchers tried to bounce balls past them and knock over folded license plates.
Hoffman was chosen in his third year, getting 79.9 percent after missing by just five votes last time. The former Padres closer used an outstanding changeup to post 601 saves, second to Mariano Rivera's 652, and revved up fans in San Diego with rocking entrances to "Hells Bells" by AC/DC.
Hoffman became the sixth pitcher who was mostly a reliever to make the Hall, along with Goose Gossage, Bruce Sutter, Dennis Eckersley, Rollie Fingers and Hoyt Wilhelm.
As for his wait, Hoffman said: "You can't do anything to enhance your career after not getting that call. I'm not worried about whatever year it is. I'm ecstatic to get in."
It took 317 votes to be elected. There were 422 ballots submitted, including one blank entry.
Martinez made a big move up to 70.4 percent and fell 20 votes short in his next-to-last year on the ballot. Mike Mussina climbed to 63.5 percent.
Clemens, winner of 354 games and seven Cy Young Awards, got 57.3 percent after drawing 54.1 percent last time. Bonds, the career home run leader and a seven-time MVP, reached 56.4 percent, up from 53.8 percent.
Clemens and Bonds each get four more tries. They seem to be "gaining steam with newer voters," Jones said.
Omar Vizquel (37 percent), Scott Rolen (10.2) and Andruw Jones (7.3) were first-time candidates. A
More like this from vindy.com