Globetrotters entertain again at Covelli Centre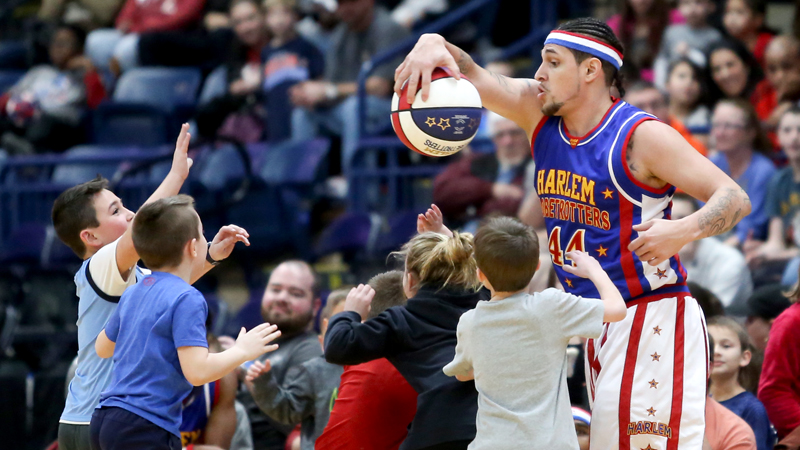 ---
The Harlem Globetrotters returned to Covelli Centre
and so did their legendary basketball antics
By Brian Dzenis
YOUNGSTOWN
Amber and Eddie Bonilla were the butt of a few jokes from the Harlem Globetrotters at the Covelli Centre Wednesday night, but the only reactions they cared about were those of their 7-year-old daughter, Ellianna and 12-year-old son, Antonio.
It started with Globetrotter Anthony "Ant" Atkinson "stealing" Amber's purse, which led to her husband being referred to as "an ugly lady in skinny jeans," and ended with her getting her purse back as a gag gift and the Struthers couple dancing at center court.
"It was fun. It was nice being here with my family and seeing my kids happy and smiling and laughing," Amber said. "It was embarrassing out there, but knowing that my kids are happy and excited that we were out there [made it worth it]. Putting their parents on the spot makes them happy."
Moments like that keep fans coming back to hear "Sweet Georgia Brown" and see the 92-year-old Globetrotters. It's also the reason Carlos "Dizzy" English has stayed with the team for seven years.
"It's the smiles you can put on these families faces. You never know what somebody is going through when they come here to watch us for those two hours," said the former Cleveland State point guard.
"What I want to do and what my teammates want to do is, we want to make sure the memory they leave with is one that will last for a lifetime."
From Christmas Day through June, the Globetrotters live up to their name and travel throughout America and sometimes beyond to compete against their hapless rival, the Washington Generals.
On Monday, the Globetrotters overcame some last-minute attempts to cheat by Generals' heel "Cager" — who changed the scoreboard to 99-68 in his team's favor — with a 1:15 left to play. The controversy was settled with officials setting the score at 68-68. After a few more elaborately choreographed dunks for Alex "Moose" Weekes, the Globetrotters won, 76-70.
Along the way, the team set about creating memories for fans in attendance. Howland 10-year-old Gianna Pompelia made multiple trips to the floor, hitting a layup and learning tricks at midcourt with Brianna "Hoops" Green. Pompelia said she had seen the Globetrotters come to her school.
"I saw 'Zeus' do some tricks and I wanted to see what it looked like in a game," Pompelia said.
The Globetrotters' tour though Ohio was special for English as well. Originally from Warren, Mich., English had his family come see him perform in Cleveland.
"It's overwhelming, man. You take little things like this for granted, but you don't understand it," English said. "People from Ohio continue to congratulate me on my success at Cleveland State and with the Globetrotters."
While "Dizzy" used his speed and deft hands to fire no-look passes and dribble through the Generals, Eddie Bonilla said he didn't want to trip when it was his turn on the court.
His daughter's blunt assessment of her father's performance was delivered with a smile.
"He's a bad dancer," Ellianna said.
More like this from vindy.com