Sebring ex-water operator placing blame on EPA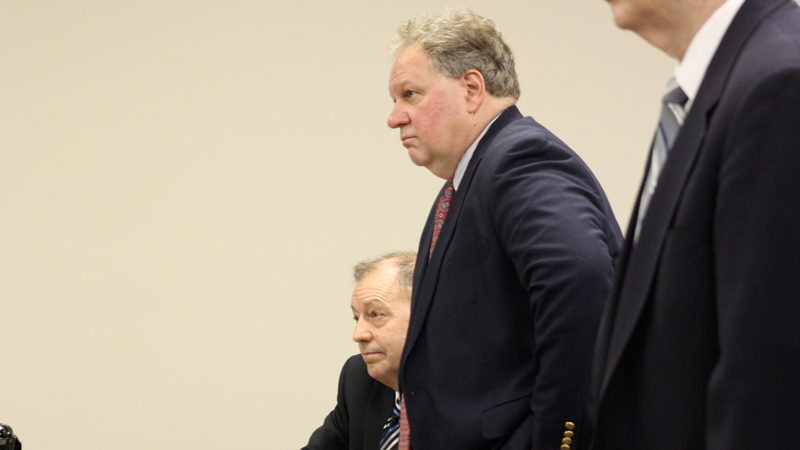 ---
By Ed Runyan
SEBRING
Attorneys for the Ohio Attorney General's Office and former Sebring Water Department operator James Bates faced off here Tuesday in what you might call a blame game over the 2016 Sebring water crisis.
The two sides told Visiting Judge Patricia Cosgrove in Mahoning County Sebring Area Court why the statements allegedly made by Ohio Environmental Protection Agency officials about the crisis either should or should not be admissible at Bates' trial set for May 14.
Bates is charged with three counts of violating state laws requiring water system operators to notify their customers when routine testing indicates there is an excessive amount of lead in the drinking water.
Atty. John Juhasz, who represents Bates, said the Ohio EPA should take blame for the failure to notify Sebring water customers of the elevated lead levels because the OEPA was notified of lab results showing elevated lead levels in the drinking water in fall 2015, "at the same time as the village of Sebring was, that [Bates] was in contact with" Ohio EPA officials and that Bates was "told either to wait until he heard back or was not given any instructions at all."
Juhasz said certain individuals in the OEPA "did not act on the information" about the high lead levels and the OEPA dropped the ball in notifying Sebring of what it needed to do.
Yuhasz said some of the employees working with Sebring "were later disciplined as a result of that."
But Juhasz said he's not asking for information about the disciplinary matters to be introduced at trial, only the information that might point to reasons Bates did not make the notifications.
Juhasz acknowledges there are no recordings of some of the conversations Juhasz would like to introduce at the trial.
Robert Cheugh II, an attorney with the Ohio Attorney General's Office, meanwhile, said Bates was the certified water operator for Sebring, "and as such, under the law, he is the sole responsible party to make sure the public water supply complies with" the rules for a public water system.
"There is nothing in the rule or the law that requires the EPA to do anything in regards to the notification, which is part of the three charges," Cheugh said.
The rule "is clearly written that within 30 days of getting the test results," customers whose water tested high for lead are to be notified. Bates didn't do that, Cheugh said.
He also did not notify all Sebring water customers within 60 days (by Nov. 30, 2015) that more than 10 percent of water customers tested had high lead levels, Cheugh said. And Bates did not send a Form 5105 to the OEPA within 10 days giving specific information about the high lead levels, he said.
"Any testimony in regards to whether Ohio EPA officials [regarding] how they responded in their employment situations to the failures of Mr. Bates is totally irrelevant," Cheugh said.
Bates, 61, of Carey Road, Salem, could get prison time if he's convicted, despite the charges being misdemeanors.
Judge Cosgrove took over the case on assignment from the Ohio Supreme Court when Sebring Judge Diane Vettori was charged in federal court, accused of stealing from a former client in her private law practice.
Cheugh said recordings of conversations between Bates and OEPA officials that Juhasz would like to use at the trial were not made until Dec. 24, 2015, and January 2016, after the state considers Bates to have committed the crimes charged.
Cheugh and Juhasz gave conflicting accounts of what kinds of conversations Bates had with various OEPA officials.
Juhasz said two officials told Bates to "hold off and don't do anything" about notifying the public about the lead problem "until you hear from us."
One OEPA official told Bates on Christmas Eve 2015 that Bates was not permitted to send out the notifications "until it was approved by EPA," Juhasz said.
Cheugh said OEPA officials were only talking to Bates about a corrosion-control study Bates needed to do to fix the lead problem, not about notification to the public.
Judge Cosgrove said she will rule later on what evidence to allow a jury to hear. A pretrial hearing is scheduled for 10 a.m. May 7.
More like this from vindy.com