Officials: Mahoning County's pothole-palooza likely to get worse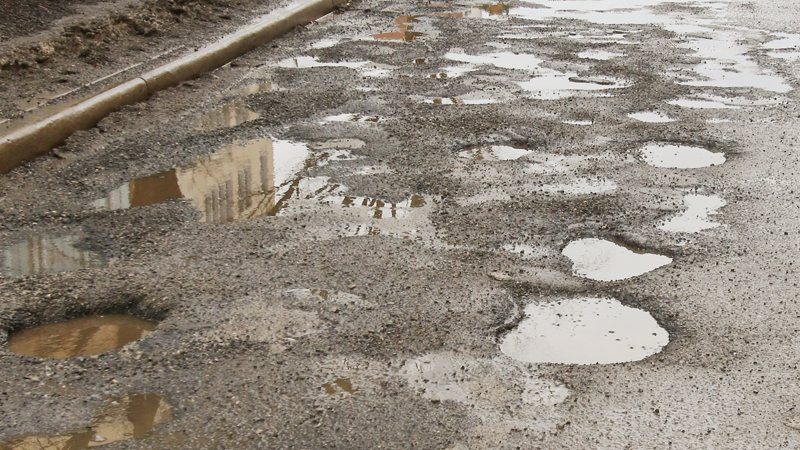 ---
By JUSTIN WIER
and DAVID SKOLNICK
news@vindy.com
YOUNGSTOWN
Potholes have begun to devour many Mahoning County roads, and with wildly varying temperatures, county Engineer Pat Ginnetti said it's likely to get worse.
"These roads are falling apart," Ginnetti said.
Temperatures forecast for the coming week show highs above freezing during the day with lows below freezing at night.
"Potholes are going to pop up unexpectedly," Ginnetti said.
Despite warm days, the ground remains frozen with 12 to 15 inches of frost, Ginnetti said. If that thaws, roads could deteriorate further.
He advised drivers to travel slower than usual and take extra precautions, including staying aware of other drivers who may swerve to miss potholes.
Roads that have received a significant number of complaints include South Avenue and Shields Road in Boardman and Kirk and New roads in Austintown.
Ginnetti said his crews are addressing the problem when the weather allows.
"It's a nonstop cycle," Ginnetti said. "We're either plowing, patching or paving."
He added that his office has seen a decline in both funding and manpower, which can make it difficult to keep up.
The engineer's office's expenditures have dropped from $21.3 million in 2015 to $14.5 million in 2017.
Of that, $6.6 million went toward payroll.
It's similar in Youngstown.
"I expect more potholes in the coming weeks because of the warmer and then colder weather," said Charles Shasho, deputy director of the city's public-works department. "I've noticed them popping up more. You'll see even more, but we're ready to go. We're plowing and patching through the winter."
Among the main streets with pothole problems are lower Fifth Avenue, Market Street and parts of Rayen Avenue, he said.
"They're on streets that haven't been paved in a number of years," Shasho said.
Those finding large potholes in Youngstown should call the city street department at 330-744-3179 to report them, Shasho said.
Typically, the street department will drive on a main road looking for potholes, he said.
"It's hard to do potholes in a scattershot way," Shasho said. "We can't do one hole on Meridian [Road] and then jump to the East Side so we're not spending more time driving than patching. But we are trying to stay on top of it."
The city's street department budget last year was $4,249,000 with about $3 million going toward salary and benefits, said Kyle Miasek, interim finance director.
Brent Kovacs, a spokesman for the Ohio Department of Transportation, said crews have tried to stay off the roads during peak driving times in the morning and evening, but otherwise, they're out patching potholes as well.
"When we're not plowing this time of year, we're filling potholes," Kovacs said. "The crews are out on Interstate 680 keeping up as much as they possibly can."
The Vindicator received numerous complaints about potholes on I-680.
The good news, Kovacs said, is that I-680 will undergo resurfacing this summer.
In the meantime, he advised motorists to slow down, move over and take extra caution especially when they see ODOT crews out on the roads.
In Liberty, the road department started heading out early Monday to patch potholes. Gino Bidinotto, head of the road department, said the department anticipates being able to work on the roads the next couple of days as long as the break in the weather continues. The department works on patching potholes on the main roads with the heaviest traffic first and then heads to the side roads.
Problems with potholes can be avoided if people drive the speed limit, he added. "When a car hits a pothole going 25 mph versus 40 mph, it makes a big difference. It's less wear and tear on your car, and it's the law," Bidinotto said.
In Boardman, road department crews are stationed in each of the township's four quadrants, where they are patching potholes whenever they come upon one, road Superintendent Marilyn Kenner said. Also, as callers report potholes, crews go to those areas.
One area of concern she noted is Squirrel Hill, located off Hitchcock Road.
At a township trustees meeting this week, Kenner raised the possibility of using a fiber additive in the township's hot mix that is used for resurfacing. She said the additive extends the life of the road and helps prevent potholes.
To report a pothole to the road department, visit the department's page on www.boardmantwp.com or call 330-726-4190.
Poland Township Administrator Jim Scharville said road crews have been out in recent days patching potholes.
"As long as the weather stays nice, they'll continue patching," he said.
He encouraged motorists to report any potholes they see by calling the township at 330-757-0733.
"If it's there, we want to know," he said.
Keith Rogers, Canfield Township administrator, said there aren't as many potholes in this season's thaw compared with previous years.
"We're not too bad off right now," Rogers said. "Whatever potholes we have right now will be taken care of after the winter."
Contributors: staff writers Billy Ludt, Jordyn Grzelewski and Samantha Phillips
More like this from vindy.com