Jazz & Dessert event set for Saturday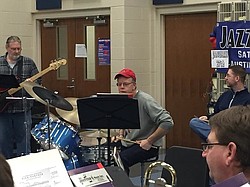 CONTRIBUTED PHOTO

Photo
Austintown Band's third annual Jazz & Dessert will take place from 6 to 9 p.m. Saturday at Austintown Middle School. Above, from left, Fitch alumni Dean Welch, Rob Bowman, Paul Jones and Mark Cooley rehearse for the event.
Staff report
AUSTINTOWN
The Austintown band's third annual Jazz & Dessert will take place from 6 to 9 p.m. Saturday at the Austintown Middle School cafetorium. This event, sponsored by Austintown Band Parents, incorporates music and sweet treats. The musicians range from sixth grade to Fitch alumni who graduadted in the 1970's. The bakers range in age from high school to a 91-year-old former band parent.
More than 20 amateur and professional bakers will supply nearly 40 types of treats while four jazz bands provide entertainment. The 25-piece Austintown Middle School Jazz Band, under the direction of Jeremy McClaine, will perform at 6 p.m. They will be followed at 6:45 p.m. by the Fitch Alumni Jazz Band directed by former band director and current Fitch High School principal, Marc Pupino.
The high school has two jazz bands, both of which are conducted by Wesley O'Connor. Fitch Jazz Band 2 will perform at 7:30 p.m., and Fitch Jazz Band 1 will play from 8:15 to 9 p.m.
Admission at the door is $5 and includes 10 dessert samples per ticket. Refreshments and carryout containers also can be purchased. Each ticket sold entitles the bearer to two votes for the best professional and amateur bakers.
There also will be a basket auction with treats donated by each baker. The awards for bakers and auction winners will be announced before the Fitch Jazz Band 1's performance. For information, email austintownbandparent@gmail.com.
More like this from vindy.com