Boardman Spartan Marching Band surprises woman on 100th birthday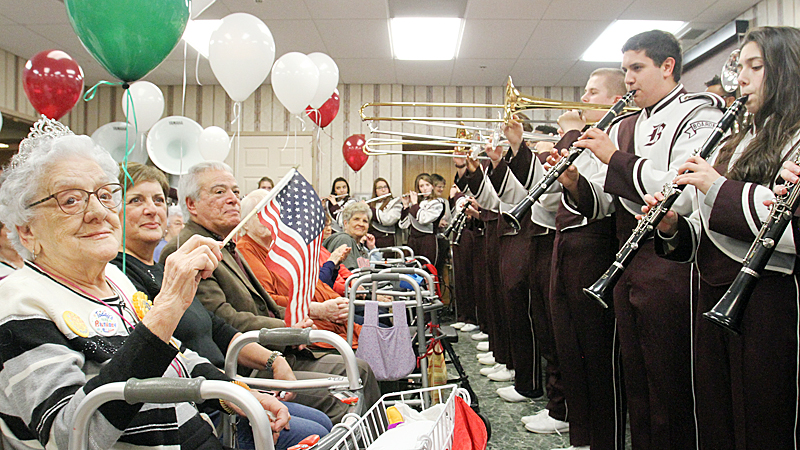 ---
NORTH LIMA
Marching Band Birthday

Video
Marge LoCicero celebrated her 100th birthday with a marching band.
100 th Birthday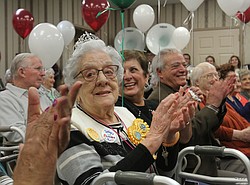 Gallery
Marge LoCicero celebrated her 100th birthday with a marching band.
Asked what she wanted for her 100th birthday, Margaret LoCicero responded with her signature humor.
"A marching band," she would tell people.
Little did she know the staff at Mercy Health's Marian Assisted Living Center took her seriously.
Tuesday afternoon, all LoCicero knew was her family and Marian residents and staff had gathered to throw her a birthday party.
After blowing out candles on her birthday cake, LoCicero sat in a balloon-filled room, a birthday tiara perched on her head. Then, in walked a man LoCicero had never met.
"We have a few things in common," said Tom Ruggieri. "You worked in the Boardman schools. I work in the Boardman schools.
"You know what I do?" he asked. "I direct the band."
With that, it was time for the show to begin. Booming musical notes sounded in the hallway, moving closer and closer to the room.
Dozens of Boardman Spartan Marching Band members filed into the room, where LoCicero had a front-row seat as they regaled her with several songs – including, of course, "Happy Birthday."
When Ruggieri learned of LoCicero's birthday wish, he thought he could make it happen. He gave students the opportunity to volunteer, and in all he gathered about 50 band members to participate in the celebration.
After the performance wrapped up, LoCicero was overwhelmed.
"I was just so impressed," she said.
LoCicero was born Margaret Colantone on Jan. 23, 1918, in Youngstown, several years after her parents emigrated from Italy.
She graduated from East High School in 1936, and in 1941 married Peter Anthony Cordova LoCicero. The couple had four children: Joseph, Mary Margaret, William and Patrick.
After her husband died, LoCicero was responsible for caring for her four children and, later, her parents. To support her family, LoCicero worked 10 years as a cafeteria worker at Boardman High School.
LoCicero's children said they have learned many valuable life lessons from their mother, who now is a grandmother of seven and great-grandmother of nine.
"My mom always taught us the cup is half full," Joseph said. "Her philosophy is, 'Life is simple, it's just not easy.'"
Some of the "simple" tenets she passed down to her children are: Keep promises; respect people; be honest; and never stop learning, to name a few.
Her answer to the question asked of every centenarian – the secret of making it to 100 – is simple, too.
"Follow the yellow brick road – whatever your yellow brick road is," LoCicero said.
More like this from vindy.com