Poland community members raising money for bridge restoration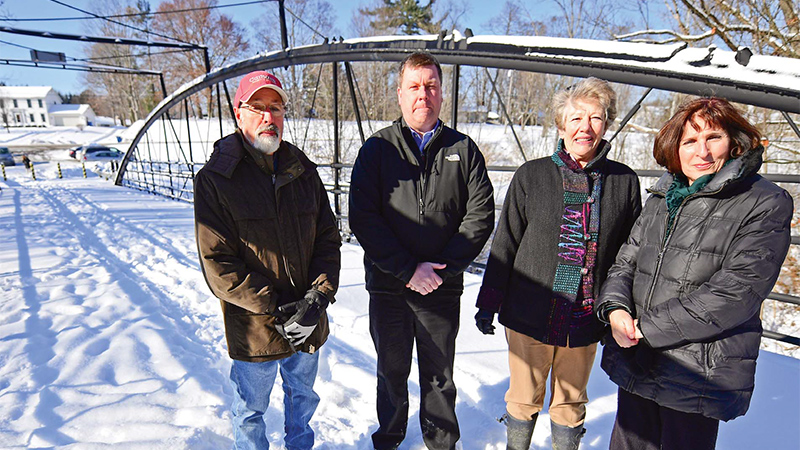 ---
POLAND
In the years after the village's Riverside Cemetery Bridge was built, the cast- and wrought-iron bowstring truss bridge was a main thoroughfare between the Mahoning River and New Castle, Pa.
Today, traffic flows down U.S. Route 224, and the Riverside bridge is a quiet pedestrian walkway stretching across Yellow Creek from state Route 616 to the north end of Riverside Drive.
Much has changed in the 141-year history of the bridge, the style of which used to be common across the United States and now is one of the last of its kind.
Partly due to its rarity, community members are coming together in an effort to restore the span.
"It is one of three in the entire United States," said Rebecca Rogers, a village resident and architectural historian who is organizing the effort. "It is one of the most important bridges in Ohio, and it's beautiful and accessible and very easy for us to visit and enjoy."
The restoration project will take place over the next few years, with specification and design work slated this year. The village will be responsible for the full cost of that work, which is estimated at $18,000.
Cleaning, priming and painting of the bridge likely will take place starting in 2020. The village has received an Ohio Department of Transportation grant that will cover 80 percent of the estimated $208,000 cost, with the village responsible for the remaining $41,600.
In total, the village's share of the project cost is estimated at $59,600. Rogers and others hope to raise money to cover some of that expense. The Ohio Historic Bridge Association recently donated $10,000 toward the village's share of the project.
Rogers explained the bridge represents the early era of metal bridge construction. Dr. William Rezner of Cleveland in 1872 patented the bowstring design used to build the Riverside Cemetery Bridge in 1877. That design was used for bridges across the U.S., but the Riverside bridge is now one of three remaining examples of Rezner's design.
It was added to the National Register of Historic Places in 1983, and drawings, history and photos related to it were entered into the National Archives in 1986.
More like this from vindy.com