Friends, family write letters to Al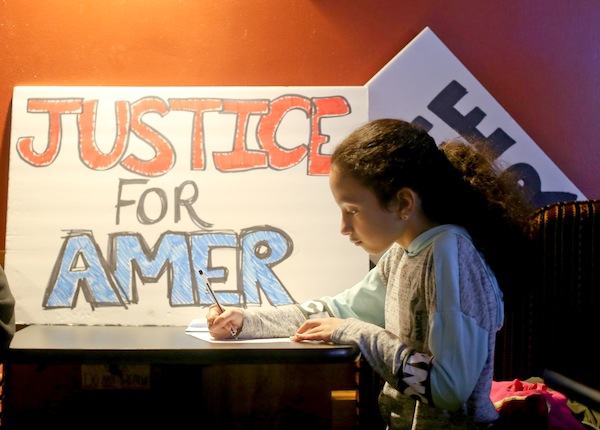 ---
By Kalea Hall
YOUNGSTOWN
In the candlelit Circle Hookah and Bar, friends and family of Amer "Al" Adi Othman, known as Al Adi, packed into booths and crowded around tables at his business to write letters to their friend.
Adi, meanwhile, sits in a cell at the Northeast Ohio Correctional Center on Hubbard Road on the East Side. U.S. Immigration and Customs Enforcement took him into custody a week ago today at what was thought would be a check-in meeting.
Since he was taken into custody, Adi, a well-known downtown businessman, has been on a hunger strike in a fight against his detainment. Monday was his sixth day without food.
"He is as well as he can be for not eating anything," said Lina Adi, Al's daughter.
His family and friends have fought Adi's detainment with organized protests taking place over the weekend. On Monday evening, they had a letter-writing event at Adi's business, Circle Hookah, so Adi can hear from his supporters.
Adi, who hasn't seen his family and only communicated with them over the phone, is guarded 24/7, his family says. He isn't allowed to talk with other people or watch TV and has no books.
"I just want him to stay strong because we are still fighting for him," said Julia Aromatorio, a longtime Adi family friend. "We are not going to stop."
Aromatorio was able to talk with Adi over the phone for a short time Monday.
"He seemed relieved to be able to talk to us," she said.
In her letter to Adi, Aromatorio plans to tell him what he has meant to her throughout her life.
"I wouldn't be the person I am today without his guidance," she said. "I have been so lucky to have him in my life."
Letters also were written to the regional director of ICE for review of Adi's case.
"Al is the type of a person who deserves a reward, not punishment," is what Gina Musleh wrote to the director in her letter.
Musleh is Adi's sister-in-law.
To him, she wrote: "We miss you and can't wait to see your beautiful smile when you come out."
"He is just a kind, loving person," she said. "In the 19 years I've known him, I've never seen him any other way."
Adi, 57, has been in the U.S. since he was 19. He is a longtime Youngstown businessman who owns Downtown Circle Convenience and Deli and Circle Hookah and Bar.
A claim that Adi's first marriage in 1980 was fraudulent is what led to his pending deportation to his native country of Jordan. His first wife filed an affidavit in 2007 recanting the statement she signed in 1990 stating the marriage was a fraud. She said she signed the statement under duress and it was untrue.
Adi has fought to gain citizenship for years, but his case has never been heard in open court. U.S. Rep. Tim Ryan of Howland, D-13th, has been in Adi's corner helping his fight for years.
Last Thursday, the Judiciary Subcommittee on Immigration and Border Security voted to request a report from the Department of Homeland Security. This report will inform the subcommittee as to whether to pass a bill offered by Ryan that would grant legal permanent residence for the businessman.
The vote is expected to delay Adi's deportation for six months because it triggers the DHS to conduct an investigation into the private case.
Late Friday, before the government shutdown, ICE said it had received notification from the subcommittee on the request for a report and it was under review.
ICE could not comment Monday because of the government shutdown, according to an email response sent to The Vindicator on Monday.
Meanwhile, the family has no news from ICE.
"It's really harsh," Lina Adi said. "Today, for some reason, he [Adi] had some hope that something was going to change."
More like this from vindy.com