The win marked the 400th of head coach Andy Saxon's coaching career.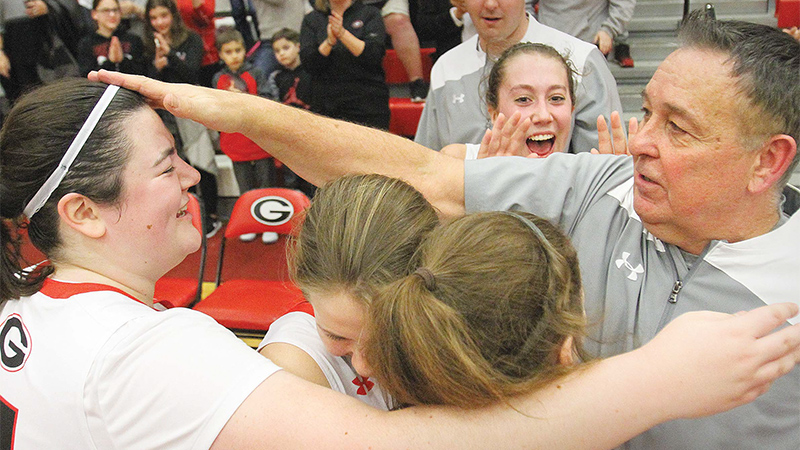 ---
Girard's Saxon hits milestone with victory over Lakeside
By Greg Gulas
sports @vindy.com
GIRARD
Wins have been at a premium this season for the Girard girls basketball team.
They've been non-existent on the road for Lakeside.
Lindsey Cave scored 16 points as Girard (4-11) posted a 43-25 win over the Dragons Monday.
The win marked the 400th of head coach Andy Saxon's coaching career.
Saxon is in his 33rd season as a head coach, all at his alma mater.
"It's big anytime you win, but this is one that I will remember for quite some time," Saxon said. "I don't remember the losses, but I sure do remember all the wins.
"As the clock was winding down, all I could think of was the many great players and coaches who have helped make this moment possible."
Olivia Ciminero added 10 points and a stingy Indians defense held the Dragons to single-digit scoring all four quarters
"This team plays hard all the time and tonight was a complete team effort," Saxon said. "I have a lot of great memories and because of this team, tonight is another of those memorable wins."
A triple by Lakeside's Makenna Condone broke a 5-5 deadlock in the opening frame and helped the Dragons (1-14) to the early 8-5 advantage eight minutes into the contest.
Ciminero notched six of her 10 points in the second frame, Sophie Griffith added five more and the Indians (4-11) opened a 24-14 lead at the intermission.
They never looked back as they broke a two-game tailspin and moved to 3-5 at home.
"It was very important for us to win this game for Coach," Ciminero said. "We were committing too many turnovers early in the season and he told us to keep them to a minimum, play hard and have fun.
"We did a much better job of controlling the ball tonight and played much better as a team."
A bucket by Cave gave Girard a 28-16 lead 43 seconds into the third quarter, increasing the margin to 39-18.
Cave scored the next nine points to key a 13-2 run before settling for a 39-22 lead with a period to play.
"The entire team was eager to get this win for coach," Cave said. "We took didn't force any bad shots, played under control and also played great defense."
Of the seven combined points scored in the final quarterall came from the foul line except for a hoop by Lakeside's Shayla Christian.
The Indians forced 20 Dragons turnovers and limited Lakeside to nine field goals.
If the Indians struggled anywhere, it was at the free-throw line where they converted just eight of 21 attempts.
Christian led the Dragons with six points.
More like this from vindy.com