The allure of ice fishing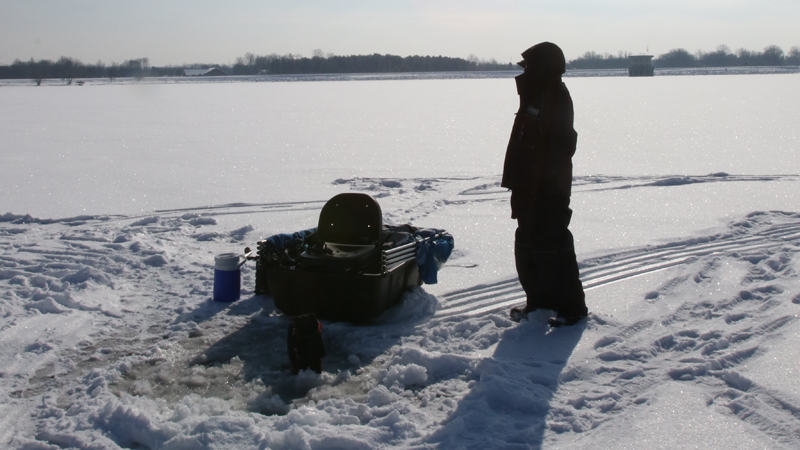 ---
CORTLAND
Ice fishermen are eager to take advantage of frigid conditions that create a thick layer of ice over lakes, so the icy snap that hit the region in mid-December and has persisted since has been perfect weather for them.
Ice fishing normally starts in January, but people have been braving the conditions since early December to try their luck at catching perch, bluegill and other native fish, said Mark Burkey, owner of Mark's Bait and Tackle in Ravenna.
"People are absolutely doing well this season, business has been phenomenal, and I'm keeping stocked," Burkey said, adding that more than 100 people have been stopping by his shop every day. Ice picks, shanties, lures and other equipment are sold at Burkey's shop.
Jeney Habovick, manager of Causeway Bait and Tackle in Cortland, said her business has been busy from the time it opens at 6:30 a.m. until it closes at 5 p.m. Even as the evening sets, there are still dedicated fishermen out on the water, she said.
"I sell a lot of bait. They usually have their own safety gear," Habovick said. "There are about 30 to 40 shanties out there with one or two people inside them. There are also people out there fishing sitting on a bucket."
The shop sold out of ice picks but offers other equipment such as shanties and ice sleds. It's apparent to Habovick that ice fishers are having a lucky streak, as they regularly post their catches on the shop's Facebook page.
As far as staying safe on the ice, Habovick reiterated that people should check the ice before walking on it to avoid falls.
When conditions are right, shanties are scattered over frozen lakes. Fishermen perch themselves in front of a hole drilled in the ice, waiting for fish to take their bait.
Jay Khim, 37, of Youngstown has been ice fishing since his uncle took him out when he was 11. He described the activity as adrenaline pumping and said he enjoys getting to "walk on water" and hanging out in his shanty on Mosquito Lake in Cortland, which he calls his "ice home."
"I love it. That's what I look forward to in the wintertime. It's been three or four years since we had the right weather for it," he said.
"Wristpicks," which are essentially wristbands with ice picks attached, are a must for Khim, just in case he or someone else falls through, although he hasn't seen that happen yet.
Ken Fry, an outdoors skills specialist from the Ohio Department of Natural Resources, said people should drill into the ice every 10 feet or tap the ice with a spud bar to make sure it's thick enough for fishing. He also advised bringing a friend and obviously dressing warm enough to withstand the temperatures.
"There is no such thing as safe ice. Don't trust it just because it looks thick," Fry said.
Rope, flotation devices, extra clothes and ice cleats are recommended by Burkey to be safe on the ice.
"I can never stress enough to be safe out there, take your time and enjoy it, don't be in a hurry. It's not worth getting hurt for a couple fish. Go the right way about it, be safe and you'll have fun," Burkey said.
Fish aren't as active in the winter as they are in the summer, but Burkey said people have been lucky this winter with getting big catches.
"It's been a phenomenal season. Last year, it only lasted a week, but this year the way it is going, hopefully we'll have it until March," he said.
One aspect of ice fishing that Khim likes more than fishing in the summer is that it's less crowded, and there is a serene feeling being in a quiet place, surrounded by nature. Those who do make the trip out to the lakes in the winter seem to bond quickly.
"There's not a lot of people who venture out there," he said. "But we stick together, we look out for each other. I've made a lot of friends from doing this."
Khim's goal is to encourage his wife to try ice fishing with him. He said everyone should try it at least once.
"I say just try it, conquer your fears. It's a lot of fun," he said.
On top of having a fun day at the lake, Khim gets plenty of fresh fish to haul home, fillet and cook up for dinner.
More like this from vindy.com