Adi's family buoyed by rally, elected officials' visit at prison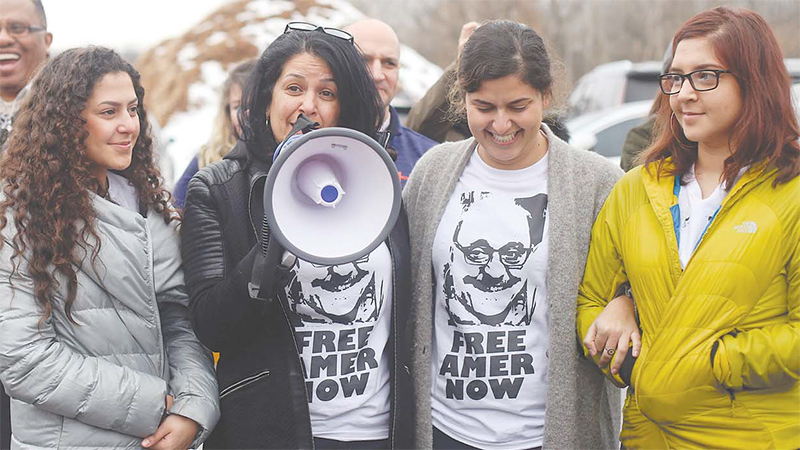 ---
By WILLIAM K. ALCORN
alcorn@vindy.com
YOUNGSTOWN
The family of Amer "Al" Adi Othman, while not yet permitted to visit him while he is incarcerated in the Northeast Ohio Correctional Center on a six-day hunger strike, did receive some positive news from local elected officials who spent about an hour with the Youngstown businessman.
"I was encouraged and hopeful. His spirits were good," said Adi's wife, Fidaa Musleh, during S u n d a y 's rally across state Route 7 from the North Side prison.
It was the second consecutive rally for Adi to attract more than 200 people. During a rally Saturday on the steps of the U.S. Bankruptcy Court for the Northern District of Ohio in Youngstown, Musleh said: "We want everybody to stand up with us. We are his voice."
Musleh's spirits were raised Sunday when state Rep. Michele Lepore-Hagan of Youngstown, D-58th, and state Sen. Joseph Schiavoni of Boardman, D-33rd, received permission from U.S. Immigration and Customs Enforcement's Cleveland office to visit Adi at 9 a.m. Sunday.
"Al is my constituent and my friend. We wanted to make sure he was all right," Lepore-Hagan said.
"I was in the prison to make sure he was being taken care of medically. There were no ICE officials there," said Schiavoni.
"Adi is drinking some water," Schiavoni said.
"Adi is so strong. His strength comes from his belief in America and this community and his family," said Lepore-Hagan. "Adi said it was good to see us, and he gave us messages to deliver to his family," Lepore-Hagan said. This situation is incredible, said Lepore-Hagan.
"Let this guy be with his family. He is not a flight risk. He's just like you and me," she said. "These rallies are what democracy is all about when people of different races and ethnicity get together and support each other," said Youngstown Mayor Jamael Tito Brown.
"Adi was a catalyst for downtown Youngstown," Brown added.
Adi met with his legal adviser, Cleveland attorney David Leopold, about 3:30 p.m. Sunday.
Most of the conversation fell under attorney-client privilege and could not be discussed.
However, Leopold still has not been given a plausible reason for locking him up.
"The ball is in ICE's court," Leopold said.
Adi's family and friends are planning a letter-writing campaign for 6 p.m. today at the Downtown Circle on West Federal Street.
The letters of support will be delivered to Adi, said Lepore-Hagan. She said the prison staff won't let him have newspapers or information from the outside.
More like this from vindy.com