Taking the Polar Plunge in freezing Mosquito Lake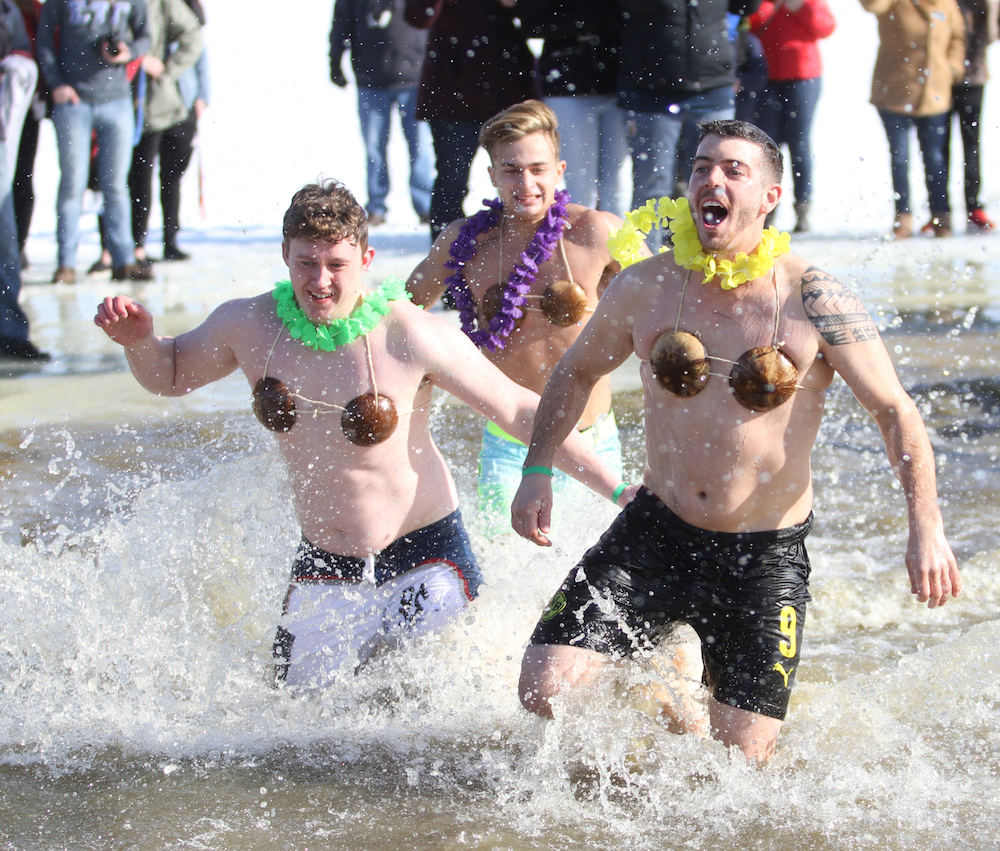 ---
By Jordan Cohen
BAZETTA
Polar Plunge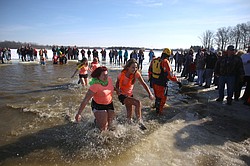 Gallery
Saturday's temperatures in the low 40s may have felt like a heat wave compared with the region's recent bone-crushing cold, but jump into Mosquito Lake with water temperatures estimated in the low 30s, and all bets are off.
Yet that's what more than 100 people did, paying at least $75 each for the privilege in the 12th annual Polar Plunge for Special Olympics Ohio. Most stayed in the water for less than 30 seconds. Many were fully clothed.
Minnie Wolfe of Niles, however, is not like most people. No quick in and out for her. Minnie was invited to be the first to enter the water – something she has been doing for years. By the way, Minnie is 86.
"I just walk all the way to the end and I'm not chilled," she said shortly before taking the Polar Plunge. And plunge she did. Clad in a swimsuit and escorted by two Bazetta firefighters, the octogenarian deliberately immersed herself to her neck to the roar of spectators, many of whom had no intention of duplicating her feat.
What's her secret? "I get myself cold before I go in," she said.
At the other end of the age spectrum were a number of young people in their early to mid-teens, including a group of nine Mathews High School students. Dubbed The Hawaiian Hotties, the five boys in the group stood shirtless for nearly a half-hour before their plunge with Hawaiian leis and strategically placed seashells their only clothing above the waist.
"We're just getting acclimated," explained Nathan Omerzo, 17, of Cortland.
One of the girls in the group admitted she was somewhat bewildered by the whole experience, which is understandable. Eugenia Vilares, 16, is an exchange student from Madrid, Spain, who has never seen anything like this in her home country.
"I'm scared," she admitted. "I'm cold already."
Nonetheless, she braved the water with her classmates and smiled, apparently happy to be back on the snow-covered beach.
Wilma Selmon, 69, drove from East Liverpool as she has done every year. Clad in a white hoodie with the words "Polar Bear" and wearing gloves she made from blankets, Selmon greeted participants as they signed up. She stays out of the water but comes to the event every year for a deeply personal reason.
"I lost a 2-year-old daughter in 1973," she said. "I take this to heart."
Earlier, workers from the Ohio Department of Natural Resources reported the ice that they had cut for the Polar Plunge measured 14 inches thick. So what, said the 37-member group from Warren City Schools who trudged into the barely above-freezing waters. One of them, Cindy Fusco, showed she was not intimidated. She wore a bikini.
"The only things cold are my feet," she said as she emerged from the water. Organizers had set up two large, heated changing tents for participants, but Fusco said she would not be needing them.
"I'm good," she said.
Kat Burdett, marketing director of Special Olympics Ohio, said the event raised "at least $15,000," slightly less than last year, but still successful. Bazetta Fire Department brought a rescue truck and ambulance, just in case, neither of which had to go into action, according to Chief Dennis Lewis.
"We've never had an incident at the Polar Plunge," he said.
More like this from vindy.com