Schiavoni says his path to victory depends on Mahoning Valley
YOUNGSTOWN
Joe Schiavoni Candidate for Governor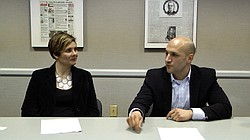 Video
Joe Schiavoni Candidate for Governor
State Sen. Joe Schiavoni sees a path to victory in the Democratic gubernatorial primary, and it starts with a strong showing in the Mahoning Valley.
"I'm going to need the Valley more than I've ever needed the Valley," said Schiavoni of Boardman, D-33rd, about turnout in the five-person Democratic primary.
Schiavoni said the winner of the May 8 primary will need 30 percent of the vote, which he estimates will be about 350,000 voters.
Schiavoni said he needs 75 percent of the vote in Mahoning, Trumbull, Columbiana and Jefferson counties to capture the nomination. That, he says, equals about 125,000 voters.
"If so, we're on our way," Schiavoni said.
Schiavoni, 38, was selected in January 2009 to the state Senate, and then elected to full four-year terms in 2010 and 2014. He followed in the footsteps of his father and grandfather by becoming an attorney with a focus on representing injured workers. He and his wife, Margaret, have two sons, Louie and Dominic.
A former amateur boxer, Schiavoni said he's been a fighter in his role as a state senator the past nine years. He hopes to bring that fighting spirit to the role as governor.
"People want somebody good, they want somebody who cares, they want somebody that understands them, and they want a human being who cares about other human beings," he said.
Aside from strong support in the Valley, Schiavoni said his goal is to get 40 percent in the Ohio Board of Education region represented by Stephanie Dodd, his lieutenant governor running mate.
Dodd represents all or part of 13 counties in central and Southeast Ohio. The plan is to win 40 percent in nine eastern counties on or near the Ohio River. The goal also includes getting 20 percent in Summit and Cuyahoga counties, and 25 percent in Franklin, Hamilton, Montgomery, Stark and Lake counties.
"This is what I have to get to win," he said. "We have to earn every vote."
Feb. 7 is the filing deadline for the May primary.
In addition to Schiavoni, the other candidates are former state Attorney General and Treasurer Richard Cordray, ex-state Rep. Connie Pillich, Ohio Supreme Court Justice Bill O'Neill and ex-U.S. Rep. Dennis Kucinich, also a former Cleveland mayor.
A lot has changed in recent weeks in the gubernatorial campaign with ex-U.S. Rep. Betty Sutton withdrawing to be Cordray's running mate and Dayton Mayor Nan Whaley also getting out of the race and endorsing the Cordray-Sutton ticket.
THE FRONTRUNNER
While Cordray is seen as the Democratic frontrunner, Schiavoni doesn't think he can win the general election.
"My concern is the Cordray-Sutton ticket doesn't get the job done," Schiavoni said. "The Cordray-Sutton ticket is the same old stuff that Democrats have been putting out for years that has not been successful."
Schiavoni points to Cordray losing the 2010 attorney general's race to Mike DeWine, who now has that position and is considered the top Republican candidate for governor. He also notes Sutton lost in 2012 to Republican Jim Renacci in a redistricted congressional race. Renacci is a former gubernatorial candidate who recently opted to run for U.S. Senate.
"Just because they have quote-unquote name recognition doesn't mean that people trust in them, believe in them or think that's the best idea for the state moving forward," Schiavoni said.
He added: "I'm not going to say they're horrible people and shouldn't be elected. I'm going to say there's a different option with Stephanie and I than with that team because we're something new. We give people real answers. We give people real responses and we have real plans in order to make the state better and that's the distinction."
Still, if he loses the Democratic primary, Schiavoni said he'll help the winner get elected in November.
Job creation is the top concern of most Ohioans, Schiavoni said, adding he has a number of proposals that would help.
One is to provide broadband internet access to everyone in the state.
"That will put people to work and set us up to put us in a position where job creators want to come to Ohio," he said.
Also, Schiavoni said the state needs to invest in underground infrastructure such as clean waterlines and wants to ask voters for a $1 billion bond issue over 10 years – $100 million a year – to fund it.
"Another piece is to make sure roads and bridges are in good condition to set up for job creators to come in," he said.
He added the state "needs to take ownership of industrial brownfields. We can't have all of these eyesores across the state. Put your arms around these things and clean them up."
Other proposals include investing $25 million over two years to upgrade career and technical centers to help provide people with the skills needed for the new economy; closing the business LLC income- tax loophole that, he said would save the state $2.2 billion over two years that could be invested into businesses, workers and communities; create a dedicated funding source to support green infrastructure projects; establish a refundable state child tax credit to be claimed against the state's personal income tax; and double the state personal income tax credit for seniors.
Schiavoni said his proposals are about "setting the stage for job creators and then putting together policy that incentivizes job growth rather than what [Gov. John] Kasich and the Republicans in the majority do now, which is tax cutting for the highest earners with the hopes and prayers that they help all of us."
If elected governor, Schiavoni said he would pay attention to the neglected parts of the state.
"There's a lot of places like the Mahoning Valley," he said. "There's a lot of places that have been left behind. There's a lot of places that Columbus has turned [its] head to. So at this point those people in communities outside of the three C's [Columbus, Cleveland and Cincinnati] recognize they have someone to fight for them and make a difference in their lives."
Dodd said, "Joe is the best candidate on either side to be the next governor. He stands for [issues] that are well thought out. I believe in Joe. The energy Joe has is hugely important."
More like this from vindy.com