Practices of ICE denounced at Adi forum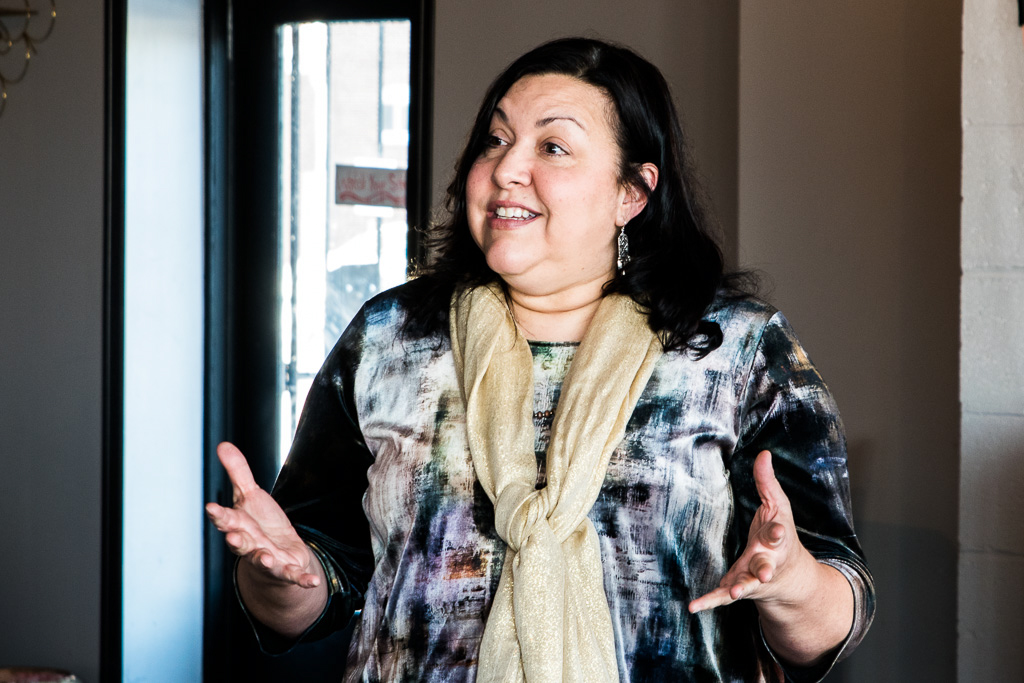 ---
By Sean Barron
YOUNGSTOWN
As painful and upsetting as Amer "Al" Adi Othman's odyssey through the country's deportation process has been for his loved ones and others, it also highlights and exposes the many disturbing, inhumane ways the U.S. Immigration and Customs Enforcement agency operates, an immigrant rights advocate contends.
"People go in there shaking, trembling and crying, and it's terrifying," Veronica I. Dahlberg said about checking in at ICE's Cleveland office. "They go in and don't come out, or they come out with an ankle monitor."
Dahlberg, executive director of the Painesville-based HOLA Ohio, spoke during a 90-minute meeting Saturday at Flambeau's restaurant to several dozen activists, family members and others who are outraged by the plight of Adi, 57, a beloved, longtime businessman known as Al Adi.
Adi, who came to the U.S. at age 19, owns Downtown Circle Convenience & Deli and Circle Hookah and Bar, two West Federal Street businesses many credit with being part of downtown Youngstown's renaissance.
HOLA Ohio is a grass-roots organization that focuses on advocacy, community organizing, civic engagement and outreach for the Latino community, with emphases on immigrants' rights, voter registration and immigration reform, its website says.
"That party turned into a celebration ... 10 days later, he was lured into Cleveland's ICE deportation office," Dahlberg said, referring to the jubilant gathering hundreds of people attended Jan. 7, the day Adi was to have been deported to his native Jordan but learned he had received a stay.
ICE officials, however, arrested Adi Tuesday when he showed up for his appointment in Cleveland, before sending him to the Geauga County jail. Two days later, his family thought Adi would be released after the Judiciary Subcommittee on Immigration and Border Security voted to seek from the U.S. Department of Homeland Security a report that was to inform the subcommittee on whether to pass a bill sponsored by U.S. Rep. Tim Ryan of Howland, D-13th, that would grant Adi legal permanent residency.
After turning down his ninth consecutive meal while on a hunger strike to protest his detainment, Adi was relocated to the Northeast Ohio Correctional Center, where he remains.
Adi's treatment also points to the larger, troubling pattern of ICE's cruelty and racism, Dahlberg said, as well as its lack of compassion, empathy and respect for many people of color. Another major problem is that the agency, with a $7.2 billion annual budget, has no accountability or oversight, and is "very broken," she said.
"He's a great father, has never committed a crime and has exhausted every means possible to get a green card," said an angry Fidaa Musleh, Adi's wife of 29 years, who added that her husband's work-permit card doesn't expire until August. "What happened to him is illegal, and ICE is out of control."
ICE officials tricked her and Adi, then humiliated him, even though he followed the rules and had prepared to return to Jordan, she continued.
Also outraged was Kira Walker, a Youngstown Early College 11th-grader, who embarked on a weeklong traveling American history course through the Deep South called Sojourn to the Past.
"People need to pay attention," said Walker, who drew what she sees as several parallels between ICE's handling of undocumented people and the ways many blacks were treated during the civil-rights struggles and unrest in the Jim Crow South during the 1960s.
"If we don't stand up now, things will only get worse," added Penny Wells, Sojourn's executive director in the Mahoning Valley.
Attendees are encouraged to contact their elected officials, including Gov. John Kasich, and to take part in upcoming protests, said state Rep. Michele Lepore-Hagan of Youngstown, D-58th.
Also, Dahlberg announced HOLABlitz for Dreamers & Immigration Reform, a campaign that is to run this week in which people across Ohio are urged to stop by their local congressional offices to demand Congress pass a DREAM Act and humane immigration policies. To register, go to holablitz.youcanbook.me.
More like this from vindy.com