Hundreds rally Saturday in support of Al Adi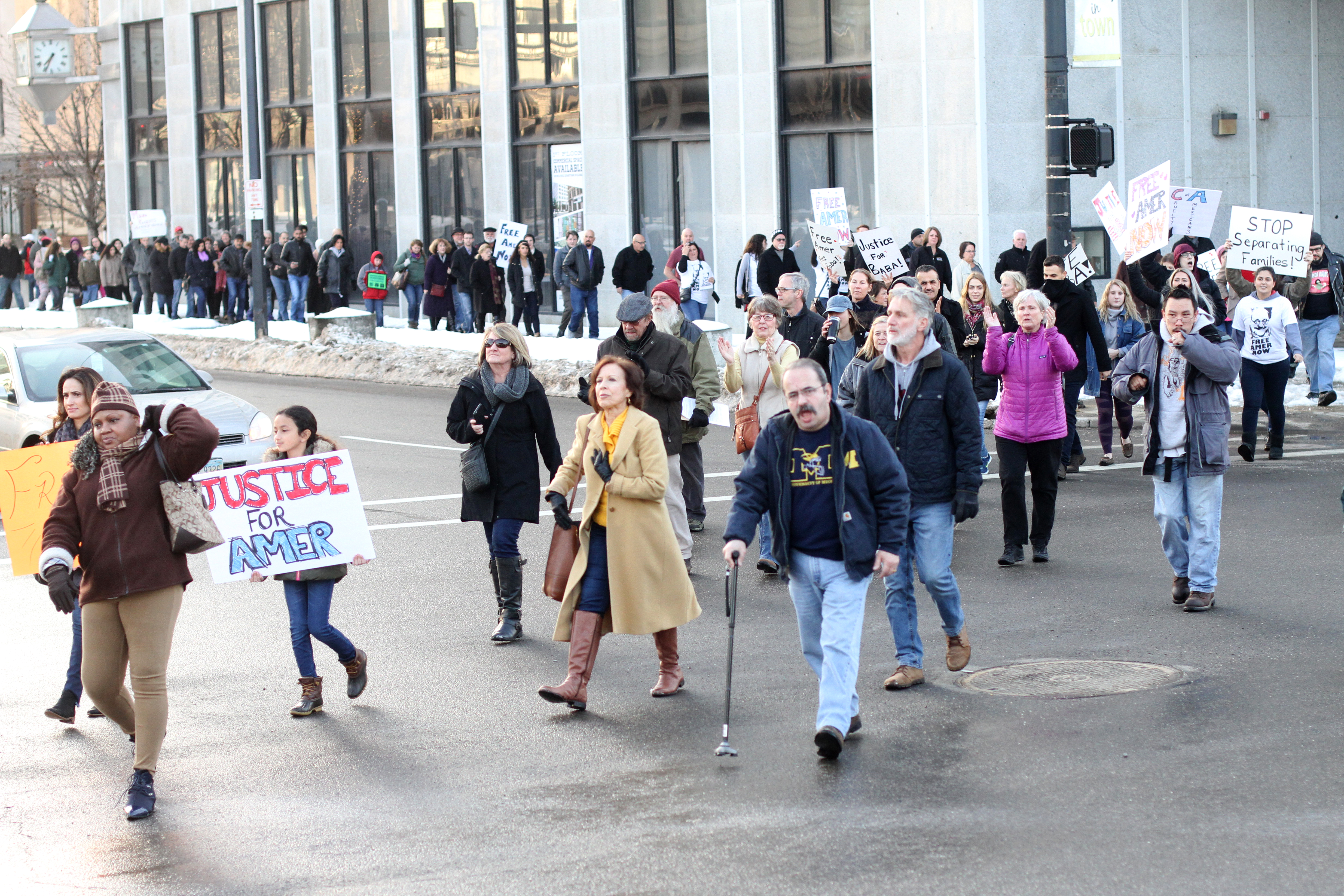 ---
YOUNGSTOWN
Rally for Al Adi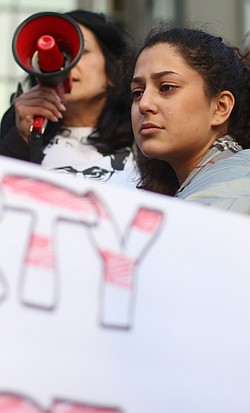 Gallery
More than 200 supporters of Amer "Al" Adi Othman, locally known as Al Adi, gathered at his downtown store and restaurant Saturday to join his family in a march to the U.S. Bankruptcy Court for the Northern District of Ohio, where a rally took place in support of his freedom.
"Justice for Amer," "Free Amer Now" and "Families Are Being Torn Apart" were among the signs carried and chants shouted by the marchers.
Adi was in the fifth day of a hunger strike Saturday at Northeast Ohio Correctional Center, leaving his family concerned not only about his rights and freedom, but his health. He was transferred to the Hubbard Road facility from the Geauga County jail, where he had been held after surprisingly being taken into custody last Tuesday at the U.S. Immigration and Customs Enforcement's (ICE) Cleveland office, where he appeared for what he and others believed would be a routine meeting.
"We're in fear for his life. This is the fifth day," said Ald's daughter, Lina.
"We had high hopes he would be released Friday. Now, we just want him to be safe. ICE needs to make a decision and stop playing games," Lina said.
"Two weeks ago, my parents were ready to voluntarily go to Jordan. Not once did I think he would go to jail. I've lost all faith in the government," she said.
Some hope remains.
On Thursday, the U.S. House's Judiciary Committee's Subcommittee on Immigration and Border Security sent a written request to ICE to stay Adi's deportation while his case is reviewed. ICE has received the request, but there is no information on when or if the review will begin, officials said.
State Rep. Michelle Lepore-Hagan of Youngstown, D-58th, said she and state Sen. Joseph Schiavoni of Boardman, D-33rd, received permission to visit Adi at 9 a.m. today .
"Al is my constituent and my friend. We want to make sure he is all right," Lepore-Hagan said.
Also, Adi supporters are scheduled to rally outside the private prison from 2 to 4 p.m. today.
In a recorded message, U.S. Rep. Tim Ryan said he and others are "trying to get Amer home as soon as possible. It's really inspiring to know how the Youngstown community supported him. We are going to continue to work to get him home with his family and urged them to keep up the fight."
"We really hope the government gets the message. We want people to wake up every day and know they are free," said Adi's daughter, Rania.
"We are not criminals. This is a lot of crap. It's a roller coaster. They get our hopes up, and then tear them down. But no matter what, we have to stay strong," Rania said.
"We want everybody to stand up with us. We are his voice," said Adi's wife, Fidaa Musleh, during the rally at the courthouse.
More like this from vindy.com