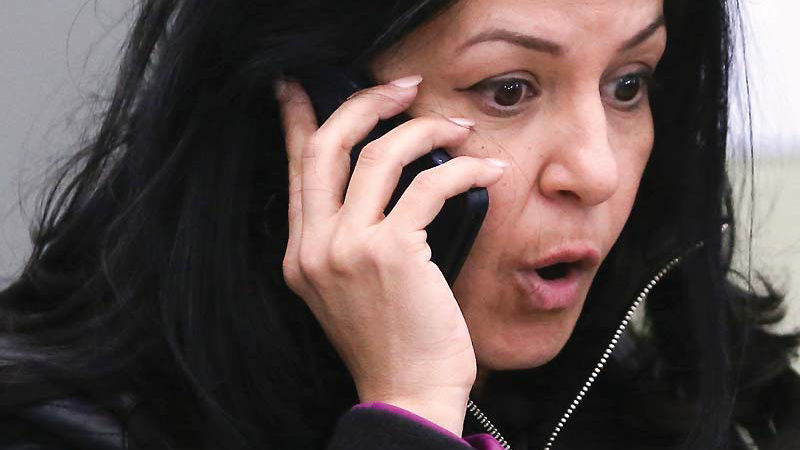 ---
By Kalea Hall
CHARDON
A deputy casually opens the door heading into the Geauga County jail and announces to those waiting for Amer "Al" Adi Othman, known locally as Al Adi, that he is no longer there.
Frustration explodes in the lobby as everyone storms out.
"It's more than just heartbreaking," said Adi's wife, Fidaa Musleh, after hearing the news. "I'm angry. I'm frustrated. I just want my husband home."
For six hours, the family sat in the plain lobby of the jail waiting for news.
First, they thought Adi would be released given Thursday's news. That's when the Judiciary Subcommittee on Immigration and Border Security voted to request a report from the Department of Homeland Security. The report was to inform the subcommittee as to whether to pass a bill offered by U.S. Rep. Tim Ryan of Howland, D-13th, that would grant legal permanent residence for the businessman.
Then, Adi informed his wife and daughters there waiting for him that U.S. Immigration and Customs Enforcement told him the agency would be transferring him to another facility, which ended up being Northeast Ohio Correctional Center on Hubbard Road in Youngstown.
When, why and where remained unknown for several hours until the deputy came walking into the lobby.
Finally, after 4 p.m., ICE responded to The Vindicator's multiple requests for comment, saying it had not received "written notification from the Chair of the Judiciary Committee [or appropriate Subcommittee], which explicitly requests a stay in writing, on Committee letterhead."
Fifteen minutes later, ICE said it had received the notification and it was under review.
ICE also said: "Consistent with the current policy, the agency may initiate action to" deport someone whose final deportation has been stayed "if ICE obtains any evidence ... that, in its judgment, warrants immediate removal."
Adi was to be deported Jan. 7. He had a ticket to go back to his native country of Jordan and his luggage was packed. Before he left, he came forward and publicly told his story, leading Ryan and others to come to his aid. He received a call and was told he didn't have to leave the country and to come to the ICE office Tuesday. Adi, his wife, his lawyer and Ryan, who went with Adi to the office Tuesday, were all aghast when he was taken into custody.
Since he was taken into custody, Adi has been on a hunger strike in a fight against his detainment.
After he refused his ninth consecutive meal, ICE relocated Adi to Northeast Ohio Correctional Center so his health could be monitored 24 hours a day.
The Hubbard Road facility has a history of detainees on hunger strike. In September, The Vindicator reported that two ICE detainees were on a hunger strike at NEOCC.
Adi, 57, has been in the U.S. since he was 19. He is a longtime Youngstown businessman who owns Downtown Circle Convenience and Deli and Circle Hookah and Bar. A claim that Adi's first marriage in 1980 was fraudulent is what led to his pending deportation. His first wife filed an affidavit in 2007 recanting the statement she signed in 1990 stating the marriage was a fraud. She claimed she signed the statement under duress and it was untrue.
If Adi is not released today, a protest will take place at 4 p.m. at 116 W. Federal St.
HOLA Ohio, an organization that works to empower Latinos through community organizing, advocacy and civic engagement, has organized a group meeting for citizens outraged by the treatment of Adi. That meeting will take place at 12:30 p.m. today at Flambeau's, 2308 Market St., Youngstown.
"We are not gonna stop. We are going to fight," Musleh said. "Because this is a just cause. He didn't do anything wrong. He's not a criminal. He never violated anything. ICE is the one that is doing something wrong. My husband didn't do anything wrong."
More like this from vindy.com