Families grateful for clothing giveaway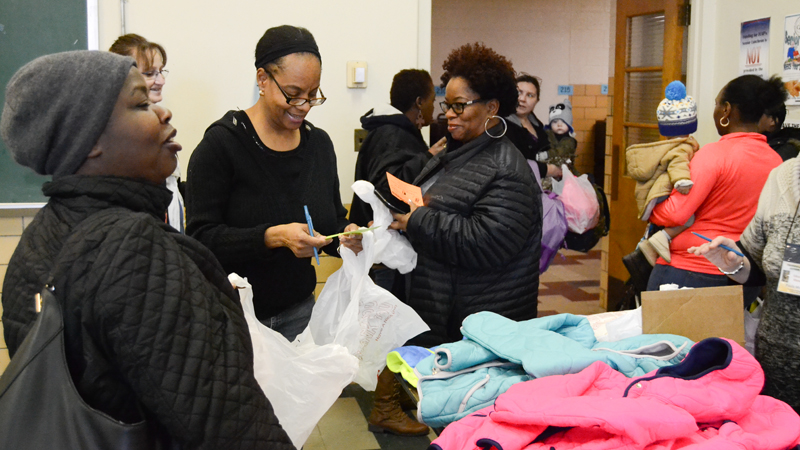 ---
By JORDAN COHEN
WARREN
By later today, several hundred families in need will have received badly needed coats, hats, socks and gloves for their children along with book bags and other school supplies – the end of a two-day giveaway.
All of the items are free.
"I wasn't expecting this," said a surprised and grateful Talema Lawrence of Warren, who brought her 4-year-old daughter Melanie Green. "This is amazing for the kids."
Her wide-eyed daughter gazed at the selection of new coats in her size, chose a colorful one and smiled broadly.
Thursday marked the first day of the giveaway at the Trumbull Community Action Program offices on Palmyra Road Southwest. A long line formed nearly an hour before the official start.
"We didn't want them to wait, so we started early," said Toni Heller, assistant director of the community's Head Start program.
Heller said the giveaway, the first in TCAP's history, began with a phone call from Community Services Block Grant offices in Columbus to Van Nelson, TCAP chief executive officer.
"They told him they had 300 coats available and asked if we wanted them," she said. "Of course, he said 'yes' immediately."
The coats were furnished by Operation Warm, an organization whose major partner since 2012 has been the International Association of Fire Fighters. According to the organization's website, Operation Warm has provided new winter coats for 250,000 children in need in the last six years.
Coat sizes at TCAP ran from 5/6 to 14/16.
"This means staying warm for my four grandchildren," said Chandra Fuller, 54, who said her family moved here three years ago from Atlanta and is still getting used to the occasionally bitter weather.
"We used to double up and layer up with jackets, sometimes four or five at a time," Fuller recalled, adding that "Coats for Kids" will change all that.
"This is a great help and it means a lot financially," she said.
Another organization donated 100 pairs of children's pajamas for Head Start families, while TCAP allocated funds from its grant to the school supplies. Many of the children seemed to gravitate to the pajamas, gloves and hats. One of them, Chance Fortier, 4, of Warren, anxiously made his selections with the help of his mother, Amandalin.
"I like this," he said.
Nelson said he could tell within the first hour that the giveaway would be a success and hopes to have another one next year. That would be fine for parents like Talema Lawrence.
"This is great for parents who can't afford to buy these things," she said. "This is a blessing from God."
More like this from vindy.com