Struthers students get lesson in bullying and kindness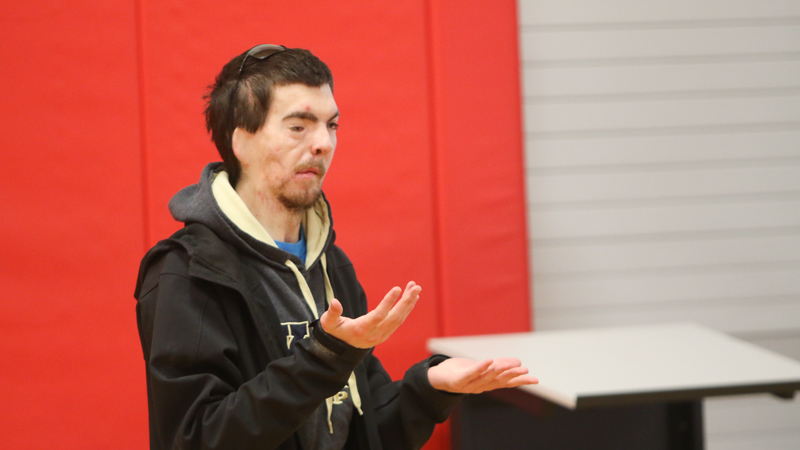 ---
STRUTHERS
Freddie Seitz wasn't expected to live through the night.
That was the prognosis doctors gave his mother, Rose, the night he was born. He was born with Goldenhar syndrome, a craniofacial syndrome that left him without a right ear, cheek or jawbone.
Twenty-five years later, Seitz is alive, possesses a degree in electrical engineering, is engaged to be married and spends his free time teaching local kids about growing up different.
Thursday morning, Seitz and his mother addressed more than 400 Struthers Elementary School students, educating them on individuals with craniofacial differences, bullying and how to be kind in their daily lives.
Seitz's story is particularly impactful for students thanks to the success of "Wonder," a popular book by R.J. Palacio about a boy with a craniofacial syndrome and his experiences navigating middle school. The book is frequently included on school reading lists, and a movie based on the book was released last year.
Throughout the presentation, Seitz used sign language to tell stories of being ignored and teased in school, and eventually finding friends and support from his teachers and organizations such as the Children's Craniofacial Association.
To encourage the students to live the lessons they learned from Seitz and his mother, the school will be implementing a "pay-it-forward" initiative through the use of sky-blue plastic bracelets.
Though the details of the program haven't been finalized, the gist of the initiative is to reward students for doing good deeds and helping each other, with the "winner" of the program eventually earning a copy of "Wonder."
Seitz and his mother were invited to the school after a teacher, Nanette Angelilli, saw Rose, her personal friend, wearing a shirt that said "Love more, judge less." Angelilli thought the students might enjoy the shirts and to hear Seitz's story.
"Stories like his bring these lessons to life for the students," Angellili said.
During a question-and-answer segment, the students were quick to engage Seitz, asking him about his experiences with bullies, whether he had other friends in school with craniofacial differences and specifics about Goldenhar syndrome.
"If you're dealing with bullies, try to focus on the friends you have and focus on strengthening your connections with them," Seitz said, his mother translating his sign language. "Don't give the bullies your attention."
Tre'von James, a fourth-grader, expressed appreciation for the message Seitz shared.
"It was great because it taught us about people who are different and how we are all the same," Tre'von said.
Seitz has shared his story at schools in Poland and Warren and will do so again in Canfield in coming weeks.
More like this from vindy.com