Family, friends react to Claudia Hoerig's return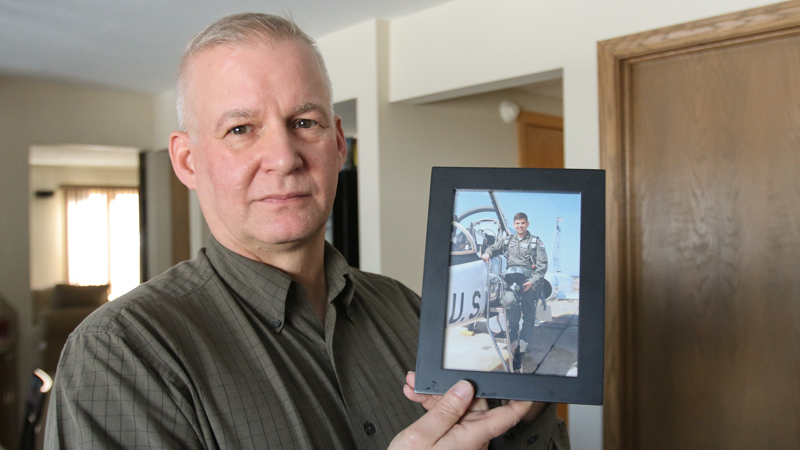 ---
By JOE GORMAN,
BILLY LUDT
and DAVID SKOLNICK
news@vindy.com
WARREN
Paul Hoerig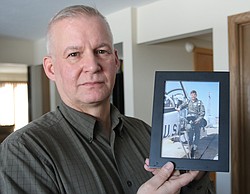 Video
Claudia Hoerig, the woman indicted in the 2007 shooting death of her husband, Maj. Karl Hoerig, in Newton Falls, is jailed in Trumbull County after being returned to the United States from Brazil Wednesday night.
Paul Hoerig never gave up hope the woman accused of killing his brother would be returned to the United States.
But he said he was in the dark as to when that return would be, as was everyone else, saying he was not informed that Claudia Hoerig is now in the Trumbull County jail until an hour before media outlets were informed at 10 p.m. Wednesday.
"We were shocked," Paul Hoerig said Thursday morning from his father's home while fielding calls from media outlets across the region.
It was the end of an 11-year journey to have Claudia Hoerig returned from Brazil, where prosecutors said she fled shortly after the March 12, 2007, killing of her husband, Maj. Karl Hoerig, an Air Force pilot, at their Newton Falls home. She is expected to be arraigned at 10 a.m. today in Trumbull County Common Pleas Court on an aggravated-murder charge. Prosecutors intend to seek denial of bail or set it at $10 million, court records state.
"The family is extremely pleased," Paul Hoerig said. "We were surprised. We didn't know until an hour before it was released to the media."
Trumbull County Prosecutor Dennis Watkins, with help from U.S. Rep. Tim Ryan of Howland, D-13th, has led the effort to have Claudia returned.
Paul Hoerig said the family is no stranger to waiting.
"It's been almost 11 years," he said. "You just kind of get used to the waiting and delays."
Paul Hoerig said he thinks the November episode of the CBS television show "48 Hours," which focused on his brother's case, sped up developments both here and in Brazil to have Claudia returned to Trumbull County.
"After the '48 Hours' show, the case just got greater attention," he said.
Although the delays were sometimes frustrating, Paul Hoerig said the family never wavered that Claudia would be back in the U.S. "We knew we were going to keep moving forward," he said.
Maj. Hoerig flew C-130 aircraft at the Youngstown Air Reserve Station in the Air Force Reserves and was a commercial pilot for United Airlines.
A Newton Falls native and 1982 Newton Falls High School graduate, he flew 400 hours in support of Operation Enduring Freedom and Iraqi Freedom during the wars in Iraq and Afghanistan, according to Vindicator files.
"[Claudia's return] was unexpected at the particular time, but totally expected that it would be soon," said Larry Diemand, who flew missions with Karl Hoerig in the Air Force Reserves. Diemand said the Justice for Karl Hoerig Facebook group he runs was blowing up with news of Claudia's return. The group is nearing 3,500 members across the U.S., Europe, Brazil and Portugal.
"Just in terms of fairness, this is really a story that grabbed the attention of the whole world," Diemand said. "When the people found out the story behind this incident, the typical reaction would be, 'How could this be? How could you kill a serviceman and get away with it?' People would look at this and think, 'If this happened to me, I'd want to see justice.' We can't bring Karl back, but we can at least work for justice. Now, we can finally move forward."
By the time police found Karl's body, Claudia withdrew all of her money and her husband's and was aboard a plane to her native Brazil.
Trumbull County prosecutors issued a warrant for her arrest a month later and have worked ever since to extradite Claudia back to the U.S. She was indicted on an aggravated-murder charge.
Her Brazilian citizenship was revoked, and she was placed under arrest in 2016. Brazil's high court voted 4-1 to extradite Claudia in March 2017, but passage also was required from Brazil's executive branch before extradition could take place.
U.S. Marshals led a team of FBI agents and state department officials to retrieve Claudia in Brazil.
"We're always happy when we bring people back for justice," said U.S. Marshal Peter Elliot of the Northern District. "This was really accomplished by Dennis Watkins, It was his perseverance and determination that brought Hoerig back here. From Day One, Dennis' main goal was to bring her back to face charges in Trumbull County.
"Dennis just never quit. He's really what made this whole thing happen."
The extradition party chartered a flight on a private jet to Brazil this past weekend and retrieved her. The U.S. Marshals team and Claudia arrived at Akron-Canton Airport about 9:15 p.m. Wednesday, and she was transported to the Trumbull County jail.
"I'm very thankful for the Brazilian officials involved who have followed through in this case," Watkins said. He added the prosecutor's office worked closely with U.S. Marshals since 2007.
Watkins and his office also worked with the Office of International Affairs in the Department of Justice.
"I rely on the U.S. government to do all the necessary work to get a fugitive to justice, who has left this country, back," he said.
Watkins did not comment further on the case.
"After a decadelong effort, Claudia Hoerig will finally stand trial in the United States," said state Rep. Glenn W. Holmes of McDonald, D-63rd. "We cannot give back the many years of grief Maj. Hoerig's loved ones have suffered, but now that Ms. Hoerig has been extradited, we can begin the process of healing and justice for Karl and his family."
State Sen. Sean O'Brien of Bazetta, D-32nd, said: "The saga involving Ms. Hoerig went on for too long, but the end is finally in sight. The evidence of her involvement in the murder of Maj. Hoerig is overwhelming, and we can now begin the process of trying her in a U.S. court of law and bringing her to justice."
"First and foremost, I'm extremely happy for Karl's family," U.S. Rep. Bill Johnson of Marietta, R-6th, said in a news release. "They have been through an ordeal that no family should suffer. I cannot imagine the pain and anguish they have been through. This day was a long time in the making."
More like this from vindy.com