BHS student art give holiday flare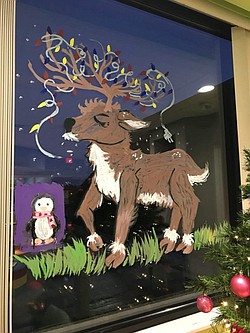 Photo
Neighbors | Submitted .A reindeer is one of the window panel displays Boardman art students painted at Akson's Children's Hospital in Boardman.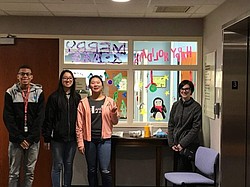 Photo
Neighbors | Submitted .Pictured are Boardman art students who painted Holiday themed window panels at Akron's Children Hospital in Boardman. The students are Raymond Prisby, Tina Zheng, Sandy Li and Cambrie Kasler.
Snowmen, reindeer and holiday cupcakes are some of the decorations one will see painted on the windows at Akron Children's Hospital in Boardman.
The talented decorating "elves" were Boardman High School students.
Nearly two dozen Art Club and National Art Honor Society members volunteered their time on Dec. 6.
Painting on windows can be difficult because the paint is transparent and wipes off. Additionally, students were working on a much larger scale than they normally do. In some cases, they used coloring book images to reference while drawing, and some that were traced onto large paper to hang from the outside of the window to trace. However, most of the students chose to free-hand and paint from their imaginations.
Art teacher Amanda Bero said the students really enjoyed volunteering their time and talents, and they want to return in the spring and paint new scenes.
"It was also great to hear guests and employees of the hospital complimenting and talking with students as they were working," said Bero.
More like this from vindy.com