MCCTC design, print program gives students competitive edge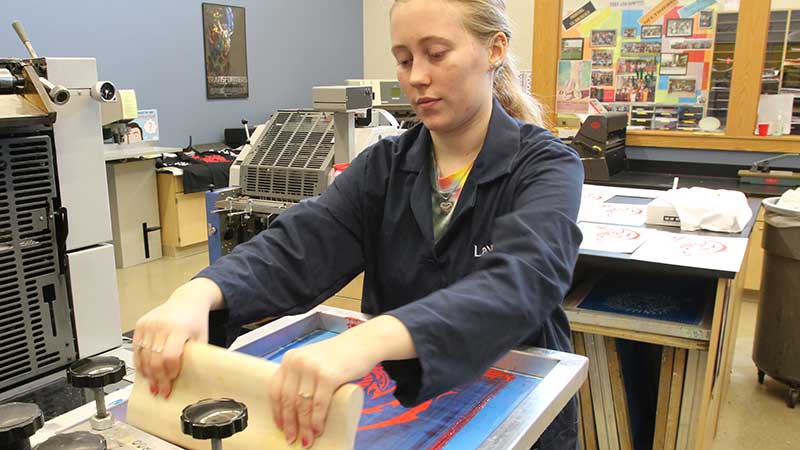 ---
By Billy Ludt
CANFIELD
There's no one career path after graduation for students who go through the Digital Design and Print program at the Mahoning County Career and Technical Center.
But instructor Mary Ann Thoburn said the program is doing everything it can to give students an edge when it comes to applying for college or a job.
The digital print and design program recently received a national accreditation, and its faculty members are certified to teach a two-year PrintED program.
"We try to do as many different things that will get them prepared," Thoburn said.
PrintED gives students the opportunity to earn three certifications that are based on industry standards, vie for post-secondary study scholarships and earn an additional three certifications in Adobe programs.
The program was developed by the Graphics Arts Education and Research Foundation, a national accreditation program for helping graphic arts students after graduation.
Representatives from GAERF visited the career center to assess equipment.
"Everybody thinks the printing industry is dead," Thoburn said.
But she listed a number of careers former students took on after graduating from the print program.
Those ranged from corporate graphic design positions, to local printing businesses or people who run web stores from home.
"If there are no jobs locally, they can always go nationally with e-commerce," she said.
Thoburn, who has been with the MCCTC for 18 years, said people in the industry feared newer digital printing technology. So, she teaches her classes both traditional and digital printing.
A focus of the program is interacting with customers. Students work with clients to create graphics for shirts, posters and other materials for real-world use.
Sarah Barry, a junior from Jackson Milton, operated an embroidery machine to sew a graphic onto a T-shirt. She joined the program because she's spent a lot of her life drawing, and the detail-oriented work seemed like the right fit.
But Barry said it wasn't what she expected.
"Whereas art is just for you, you do this for the customer." Barry said. "You learn a lot about customer service."
A shirt she made with a multi-colored, embroidered MCCTC logo sat behind Barry while she worked on the new shirt.
Barry said she would like to run her own vinyl printing company in the future.
"You have ink all over everything in your closet, but you're proud of it," she said.
More like this from vindy.com