Harlem Globetrotters return to Covelli Centre Hoops, humor and history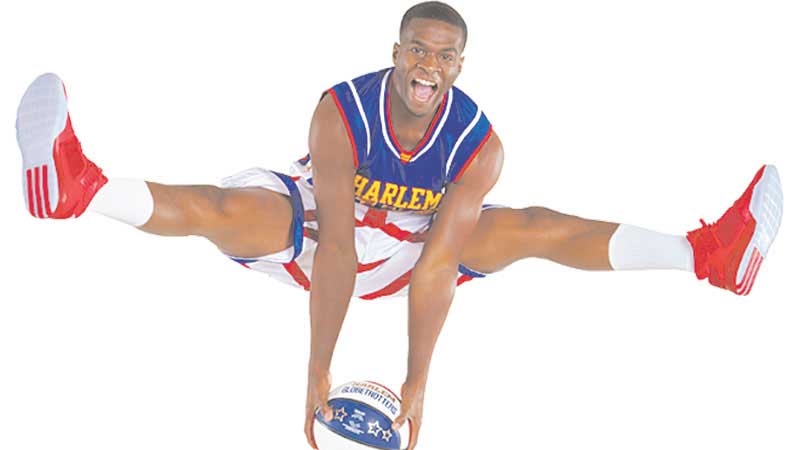 ---
By GUY D'ASTOLFO
IF YOU GO
What: Harlem Globetrotters
Where: Covelli Centre
When: Wednesday
Tickets:$29 to $87 + fees;
Online: Ticketmaster.com
Phone: 800-745-3000
In-Person: The Southwoods Health Box Office
El Gato Melendez is well aware of the high profile that comes with playing for the Harlem Globetrotters.
Being a member of the comic wizards of basketball carries an obligation to represent the 93-year-old organization with honor – on and off the court.
"I tell people, once you become a Globetrotter, you are a Globetrotter forever," said Melendez in a phone interview last week. "You've got to be on top of your behavior for the rest of your life and it's an honor to have that with you. You are on another level for the rest of your life."
The Globetrotters – who will return to Covelli Centre in Youngstown on Wednesday – are truly global and are beloved in every country they visit.
"We represent the United States," said Melendez, "in every way that we walk and talk, on and off the court. It's amazing how much love we get overseas."
The red, white and blue basketballers have not only had front-row seats to the country's history – they've been a part of it.
"We're about to celebrate Martin Luther King Day, and a lot of people don't know that the Globetrotters used to follow King as he toured," said Melendez. "We would set up a game after his rally. Sometimes we'd play two games – one for blacks and one for whites."
While being a Globie carries a great level of recognition and duty, for Melendez it reaches an even higher stature. That's because he is the first – and only – Puerto Rican to play for the Globetrotters.
"Being the first Puerto Rican is a privilege and an honor, and I represent not just Puerto Rico but all Hispanics and Latinos around the world," he said. "It's like my family got extended. When [Hispanics] see me and understand that I'm from Puerto Rico, they get very happy. On some occasions, they'll say 'come to our house for dinner, some home cooking.' It makes you understand that you are doing a good thing."
When the Globetrotters return to Youngstown, it will be with a familiar opponent. This year's tour brings back the Washington Generals as the opponent, after a three-year hiatus during which the Globies played the World All-Stars.
The fans have noticed.
"We've played the Generals for so long that it felt weird not seeing the green jerseys on the other side," said Melendez. "Having them back brings a lot of great memories because everyone remembers them being our nemesis."
The Globetrotters had been squaring off against the Generals on and off since the 1950s before their contract was ended after the 2014 season.
This year's tour will also include a performance by the Flying Globies, an amazing acrobatic dunk team that uses a trampoline. The Flying Globies bounce off a trampoline and soar toward the basket for trick shots and slam dunks.
The players will also continue to demonstrate their prowess in long-distance shooting, knocking down the "four-point shot" from nearly half court.
Keeping up with the every-increasing level of skill and razzle dazzle of the Globetrotters requires constant effort, said Melendez.
"In the last five years, we have gotten a lot crazier athletically, and the show has gotten better," he said.
To hang on to his spot on the roster, Melendez says he has to keep up with the changes.
"There is so much talent, and you have to be on top of your game all the time," he said. "Guys coming up now are creating different moves, and you have to be watching, learning, studying every aspect and angle."
More like this from vindy.com