Fairhaven, Hubbard students share special bond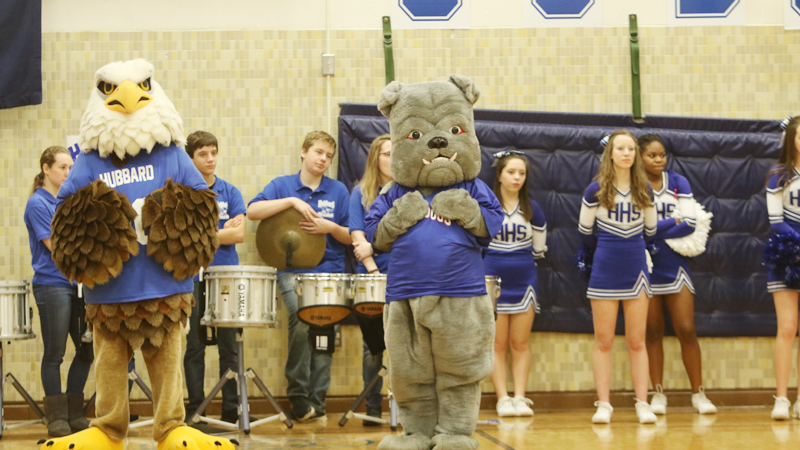 ---
By SAMANTHA PHILLIPS
sphillips@vindy.com
NILES
No matter which team scored at the Fairhaven basketball game Wednesday morning, everybody cheered and the Hubbard High School band played when the ball sank into a basket.
Sue Verostko's son Joey, 21, plays on the Fairhaven team and also was a trumpet player in the Hubbard band for four years alongside his sister Julie, 20. Verostko said it's special to watch the students play as Hubbard students cheer them on with peppy music and spirited chants.
"It's just amazing. In Special Olympics, there are no winners and losers. Parents aren't just cheering for their own kid; they are cheering on both teams. They keep score, but everyone is a winner," she said, getting teary-eyed.
That sentiment was displayed when a smaller hoop was brought out to the court in the middle of the game so a younger student could score. Everybody cheered. During halftime, Fairhaven cheerleaders joined the Hubbard cheerleaders, and they performed together.
For at least five years, Hubbard has brought its band ensemble and cheerleaders to support Fairhaven students at one of their basketball games, in which both teams are composed of Fairhaven students. Hubbard band director Dan Nestich said his students always look forward to the game and enjoy interacting with the Fairhaven students during their postgame celebratory lunch.
Watching the game and getting to support the teams are a pleasure for Samantha Phibbs, an 11th-grade Hubbard student who plays the bells.
"Honestly it's amazing. What these students are doing is remarkable. They're breaking beyond boundaries of what people expect of them," she said. "It's not about us playing – it's about adding to these kids' joy."
Some Hubbard band members who have been a part of the experience have told Nestich it impacted their decision to become special-education majors in college.
"It's win-win. Students at both schools love interacting with each other," Verostko said. "Hubbard is wonderful at fostering this relationship."
Rosanne Morell, Fairhaven principal, said the event is a way for students with and without disabilities to understand one another's differences and become friends.
"The Hubbard students are so compassionate. They treat it like a regular game, and our whole student body shows up to these games. Nobody makes fun of them," she said.
The Fairhaven Program, under the auspices of the Trumbull County Board of Developmental Disabilities, offers its Special Olympics program for students with special needs to participate in sports such as basketball, golf, swimming and track.
More like this from vindy.com