Several Youngstown streets weren't plowed several hours after a snowstorm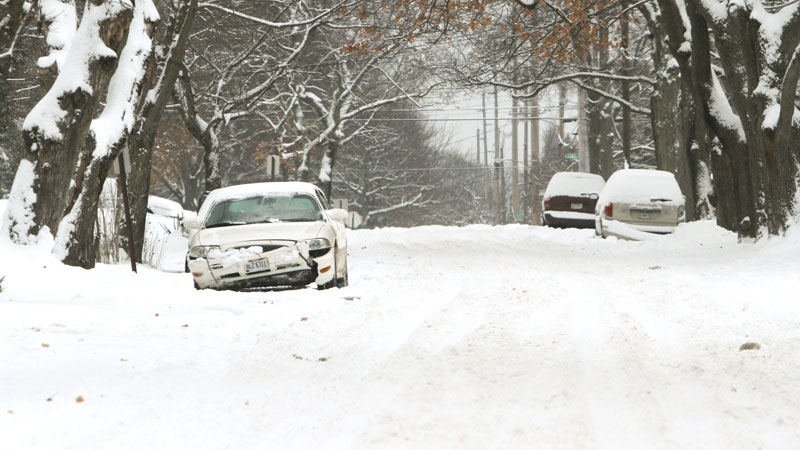 ---
YOUNGSTOWN
While a Youngstown official says the city was doing everything it could to clear snow, numerous streets were slushy messes with some of them untouched several hours after the storm.
"We're not sitting around," said Charles Shasho, deputy director of public works. "We have every available resource on the roads. We've been spoiled the last couple of years with lighter storms. The guys are working hard, and we're doing the best we can. I understand people are upset with the side streets."
City plows were tied up Monday night and Tuesday on the main streets clearing snow resulting in the side streets having to wait.
"We had to go back on the main roads a few times because the snow was falling steadily," Shasho said. "The main roads are our top priority."
That made the Tuesday morning commute somewhat of an adventure for motorists.
And callers to The Vindicator complained that from sidewalks downtown to neighborhood streets – most were an impassable mess.
Shasho said the city is solely responsible for plowing all its streets. Townships are only responsible for side streets with the Ohio Department of Transportation plowing state routes and Mahoning County taking care of the county roads, Shasho said.
"We can't go right into the side streets," he said. "The townships have to do just the side streets. State statute says the city has to do the entire city. I understand there are areas in the city that are pretty bad. Unfortunately, we've had to go on the main roads several times; sometimes they have to be done three times. We only have so many resources to deploy. But our guys do a great job."
In an email sent Tuesday to Shasho and Mayor Jamael Tito Brown, and also copied to The Vindicator, Harry Turner of Wilshire Drive on the city's West Side wrote: "We have winter every year with nearly the same cold and snow. We have the same miles of streets to plow that we did last year. I'm tired of paying high property and city income taxes and getting virtually no return when we city residents truly need municipal services. All of us are tired of paying high taxes with little return."
At 9 a.m. Tuesday, snow was piled in the turning lane on Front Street, and the sidewalks along Front were impassible in places.
Shortly after 9 a.m., Sheridan Road appeared to have been plowed, but was still a bit slushy and slick. Midlothian Boulevard near the Interstate 680 interchange was clear. Closer to the city's downtown, the streets were messier, with thick slush built up on Front and Federal streets.
About 11 a.m. Tuesday, U.S. Route 224 in the city of Canfield was slightly slushy. The sidewalks were shoveled for pedestrian traffic.
By noon, Mahoning Avenue and state Route 46 in Austintown were cleared of snow. The sidewalks were buried under snow, but foot traffic was low at the time.
Tuesday afternoon, Market Street in Youngstown and Boardman, although perhaps requiring reduced speed, was clear and drivable.
By midday in Struthers and Campbell, the roads were mostly clear enough for cars to pass without issue. Though the majority of the cities' main thoroughfares were clear, Wilson Avenue was still under a layer of snow by 1 p.m. Tuesday.
Road crews in Lowellville were out plowing streets, a somewhat daunting task considering the steep hills making up much of the village's topography. Between spreading ice and plowing streets, the road crew was also helping stuck travelers out of roadside snowbanks.
Parts of Belmont Avenue in Liberty were under a small layer of slush but relatively clear by midafternoon. State Route 193 leading into Liberty was completely clear of ice and slush. Vehicles seemed to have no trouble traversing the area. High snow banks, however, blocked the majority of some entry ways into business parking lots.
Contributors: Staff writers Samantha Phillips, Jordyn Grzelewski, Billy Ludt and Graig Graziosi
More like this from vindy.com