Judge listed home of alleged victim of $96k theft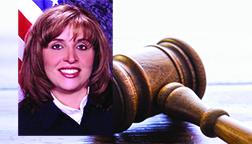 ---
By Justin Wier
YOUNGSTOWN
Judge Diane Vettori, while working for a local real- estate agency, listed the home from which she is accused of stealing $92,600 after its owner died.
A closing disclosure filed with Mahoning County Probate Court identifies Diane Vettori-Caraballo as a real-estate agency contact for a Glenwood Avenue property then owned by Dolores Falgiani.
The same real-estate agency is listed as a broker on another home included in Falgiani's estate, however Judge Vettori is not listed as the contact.
Susan Evans, a Cleveland probate lawyer who formerly served as chairwoman of the Cleveland Metropolitan Bar Association's ethics committee, said she was unaware of a law or ethics rule preventing the practice, but she considered it unusual.
"I've been doing this a long time, and I've not heard of it happening," Evans said. "Not here, anyway."
A filing in U.S. District Court accuses Judge Vettori, 49, of Canfield, of stealing at least $92,600 from Falgiani's home after Falgiani had died, depositing that money in a way that avoided federal reporting requirements and lying to Federal Bureau of Investigation agents when confronted about the matter.
Judge Vettori has a hearing scheduled for 2 p.m. today in Cleveland, where she is expected to enter into a plea agreement.
An entry on the case's docket dated Tuesday reads "Plea Agreement as to Diane Vettori-Caraballo."
In her private practice, Judge Vettori prepared Falgiani's will and represented her estate.
Falgiani died in March 2016, and the bank deposits Judge Vettori made occurred from May 2 through June 3 of that year, according to the filing.
On May 2, 2016, Judge Vettori sent a text message to the attorney serving as a fiduciary for the Falgiani estate which stated that she found $20,000 in the home and deposited it into the estate bank account, the filing says.
Judge Vettori listed Falgiani's home June 6, 2016 for $118,500. It was taken off the market Nov. 10, 2016 and the buyer closed Jan. 27, 2017. The house sold for $100,000.
Probate court records show Judge Vettori's real-estate agency received $3,500 for the sale.
In a letter Falgiani's relatives sent to Mahoning County Probate Court questioning Judge Vettori's handling of the estate, the relatives ask: "Is there a conflict of interest being attorney of the estate and being the listing agent of the house in the same estate?"
A judgment entry filed after a hearing to discuss the relatives' concerns states that all concerns were answered and all objections were overruled.
Members of the Falgiani family have not responded to attempts The Vindicator has made to get in touch.
Evans said she would be more concerned about the potential for self-dealing if a potential attorney working as a real-estate agent was the fiduciary of the estate.
She added that most probate courts have processes to manage the sale of real estate that help prevent abuse.
Court records show that both Angels for Animals of Canfield and Animal Charity Humane Society of Boardman, both beneficiaries of Falgiani's estate, approved the sale of the home.
Further, the court approved a decision to list the home at the Mahoning County Auditor's property valuation.
More like this from vindy.com