Working together to honor the legacy of Dr. Martin Luther King Jr.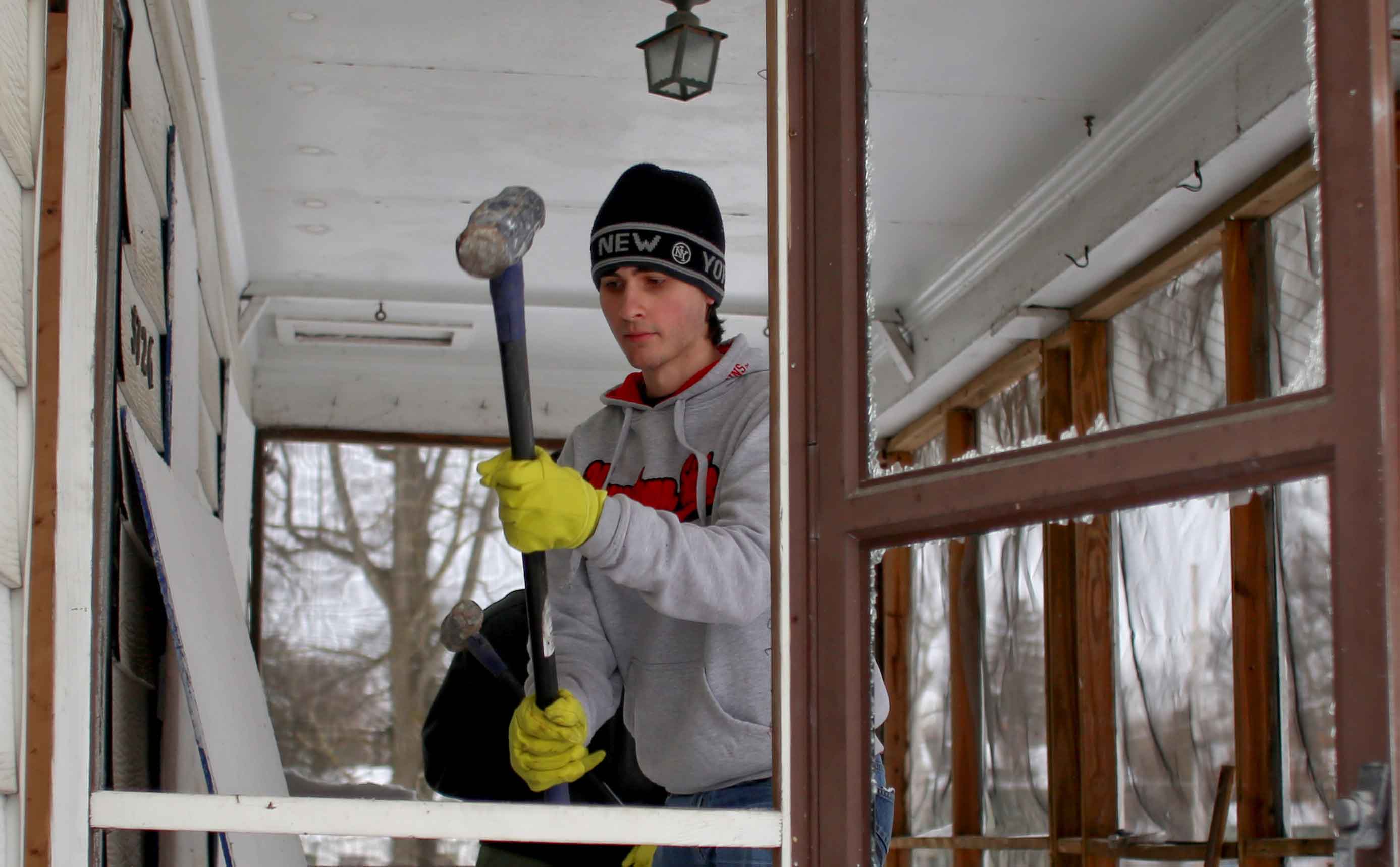 ---
By Sean Barron
YOUNGSTOWN
What prompted Anika Jacobs' desire to busily improve the look of a home in the cold and get covered with burs?
"Today, we're following the teachings of Martin Luther King to serve. Everyone can work together," explained Davis, a neighborhood organizer with the Youngstown Neighborhood Development Corp.
Despite the 12-degree weather, Davis was undaunted and happy to join several dozen YNDC and other volunteers for Monday morning's community-service work project in the city's Cottage Grove neighborhood. In addition, the cleanup effort was part of the Martin Luther King Jr. National Day of Service to honor the civil-rights leader's life and legacy.
The YNDC also was in partnership with the AmeriCorps VISTA and AmeriCorps State organizations.
Volunteers worked on 14 blighted homes, the majority of which were in the 100 block of East Judson Avenue on the South Side. Others were on nearby Erie Street and Auburndale Avenue, noted Drew Canfield, an AmeriCorps VISTA leader.
The effort also was in coordination with the South Side Revitalization Project, which received an $850,000 U.S. Department of Justice grant last September aimed largely toward crime prevention, Canfield explained, while pointing to the connection between blighted neighborhoods and upticks in crime.
Jacobs was covered in burs as she joined several others in cutting down and removing dead brush and overgrowth from a vacant home at 105 E. Judson. A main idea behind the effort was to make the structure more visible and less likely to be used for drug activity or other nefarious purposes, she said.
Volunteers also shoveled snow off sidewalks, removed trash from front porches and boarded up and secured the homes. Too often, residents fear that blighted houses on their street can become havens for criminals – including those in gangs or wanted for violent offenses – all of which will negatively impact the community's quality of life, Jacobs explained.
It wasn't long before the group fanned out to tackle blight affecting other nearby homes and yards, as well as next to an apartment complex at Erie and East Judson.
"We feel that Dr. King worked toward creating a more fair, just and equitable society, so we've wanted to continue with that over the years," said Jack Daugherty, YNDC's neighborhood stabilization director.
To that end, YNDC has boarded, cleaned and improved more than 1,700 vacant homes and properties with help and support from the city, as well as the Mahoning County Land Bank and numerous other organizations and individuals, he noted.
Such work programs also instills a greater sense of pride in residents while encouraging them to maintain their properties, Daugherty said, adding that being apathetic is a poor option for dealing with the blight problem.
"Doing nothing is like a form of child abuse," he said.
"We're bringing back that pride in the neighborhood," Canfield added.
More like this from vindy.com