VIDEO | UPDATE | 5 kids, mom safe after van skids near Girard Lake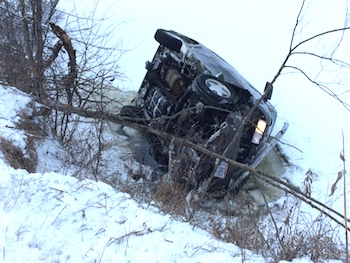 ---
VIENNA
Girard crash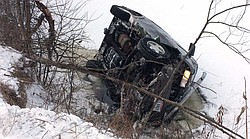 Video
Girard 911 calls
Call 1 - Audio Clip
Call 2 - Audio Clip
Call 3 - Audio Clip
Call 4 - Audio Clip
Call 5 - Audio Clip
Call 6 - Audio Clip

Audio Clip Set
The 7:56 a.m. 911 call from a woman who had just observed a minivan travel off of Niles Vienna Road and into Girard Lake was alarming enough.
But moments later, the woman told the dispatcher the vehicle had overturned, and "There's kids in the car."
The male dispatcher's voice became more concerned as he tried to pinpoint the location of the crash for first responders.
"One of the people who stopped at the van just pulled a little girl out," the woman said of a child about three years old. "There's a baby in a carrier they're pull out now," she she said.
The harrowing scene played out over the next eight minutes, as the woman and possibly a second kept the 911 operator appraised of the efforts of four bystanders — two males and two females — to get down the bank and pull the children to safety.
The children and their mother, who is from Burghill, all made it out uninjured, Lt. Brian Darbey of the Vienna Police Department said at the scene a short time later.
More like this from vindy.com