Howland art exhibition depicts separate reality at Butler branch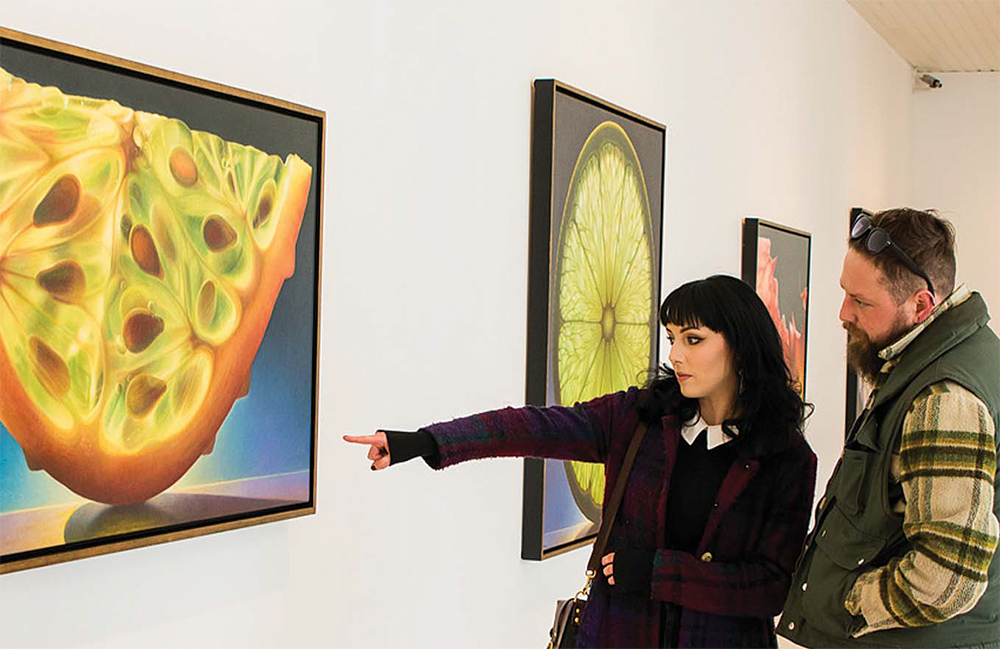 ---
By Jordan Cohen
HOWLAND
Fruit and flowers are frequent subjects for the artist's paintbrush, but the exhibit that opened Sunday at the Trumbull Branch of the Butler Institute of American Art offers an unusual and particularly eye-catching view.
More important to the artist who created these large-scale paintings is their accessibility to everyone including those who know little about art.
"You don't have to go to art school to appreciate it," said Dennis Wojtkiewicz, professor of art at Bowling Green State University. "I should be able to make a connection on multiple levels."
He has done that, according to Dr. James Brodell, who was among the admirers at the exhibition's opening day.
"After you look at a lime or orange in these paintings, it won't be the same when you eat one," the Warren orthopedic surgeon said. "Paintings like these are an opportunity to be more observant of your surroundings."
The exhibit, "Dennis Wojtkiewicz: A Separate Reality," showcases 15 oil paintings with close-up and unique perspectives of oranges, melons and various flowers. Dr. Louis Zona, Butler executive director, said he asked the artist to exhibit after finding an opening in the schedule, and Wojtkiewicz promptly agreed.
"I love what he does with natural form [and] light," Butler's curator said. "He's remarkable."
The detail with its light and shadows and combinations of brilliant and soft pastels drew praise from patrons studying each piece of artwork. Many have dark backgrounds, which bring out the color and detail of each subject. The stems of a lily seem to come alive.
Wojtkiewicz said his paintings have been designed for close-up viewing despite their large size.
"When you come up and get close, it gets more interesting," he said. "There are things that are revealed."
Wojtkiewicz has been described as "hyperrealist," a term applied to an art movement in which paintings are compared with high-resolution photographs. Wojtkiewicz said he has always been a realist painter, but the term does not fully describe his art.
"It's meant to delve into abstraction [and] deal more with the painting than identifying a flower or fruit," said the artist, who has been teaching at Bowling Green for nearly 30 years.
"I had to come," said Ashley Lynn Johnston, a former student of Wojtkiewicz's, when she heard about the exhibit. Johnston, an artist based in Youngstown, said her mentor influenced her work through his teaching style.
"He's encouraging and patient," she said.
"Dennis Wojtkiewicz: A Separate Reality" runs through Feb. 18. Brodell said the exhibit is an example of the main purpose of art.
"It's to make life come alive and more apparent," he said.
More like this from vindy.com