Youngstown Chapter of Links hosts luncheon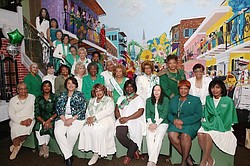 CONTRIBUTED PHOTO

Photo
Above, Youngstown Links Inc., members front row, from left, are Sarah Brown-Clark, central area parliamentarian; Margaret Staples, president; Monica Hoskins-Vann, vice president; Janice L. Beachum, recording secretary; Dr. Sabine Barlatt, corresponding secretary; Margaret Person, treasurer; Ursula Perdue, financial secretary; and Ruthie King, parliamentarian. Second row, from left, are Dr. Virginia Banks-Bright, chairwoman, HIV/AIDS and national executive council; Dr. Krishmu Shipmon,; Juanita Davis; Dr. Martha Jones; Shelley English; Dr. Joan Boyd; Anne R. Cobbin; Wanda Smith; and Juanita Williams. Stairs, from left, are Lenora Hill; Attorney Dayna Terrell; Cheryl McArthur; Julie Greene; Brenda Moore; Audrey Gillian; Judge Carla Baldwin; and Dr. Ruth Quarles.
WARREN
The Youngstown Chapter of The Links Inc. hosted its 16th annual gift gathering luncheon in December at The Avalon Inn and Resort. The purpose is to provide gifts and toys to agencies and organizations that provide services to children who are underserved. In previous years, the club has donated gifts, toys and funds to the Rescue Mission of the Mahoning Valley, the Beatitude House, The Needles Eye, A Home for Kids, The Boys and Girls Club, Sojourner House, the Black Knights and others. This year's recipients were the Eagle's Nest and Annie Hall, crime watch and community organizer.
Judge Carla Baldwin served as mistress of ceremonies and was recognized for her recent election win. Three members, Dr. Joan Boyd, Sarah Brown-Clark and Brenda Martin, received honors from the national chapter of The Links Inc. for their 40 years of service to the organization. Lenora Hill was chairwoman of the event, and Margaret Staples is the chapter president.
More like this from vindy.com