Makerspace class spurs imagination for old-fashioned fun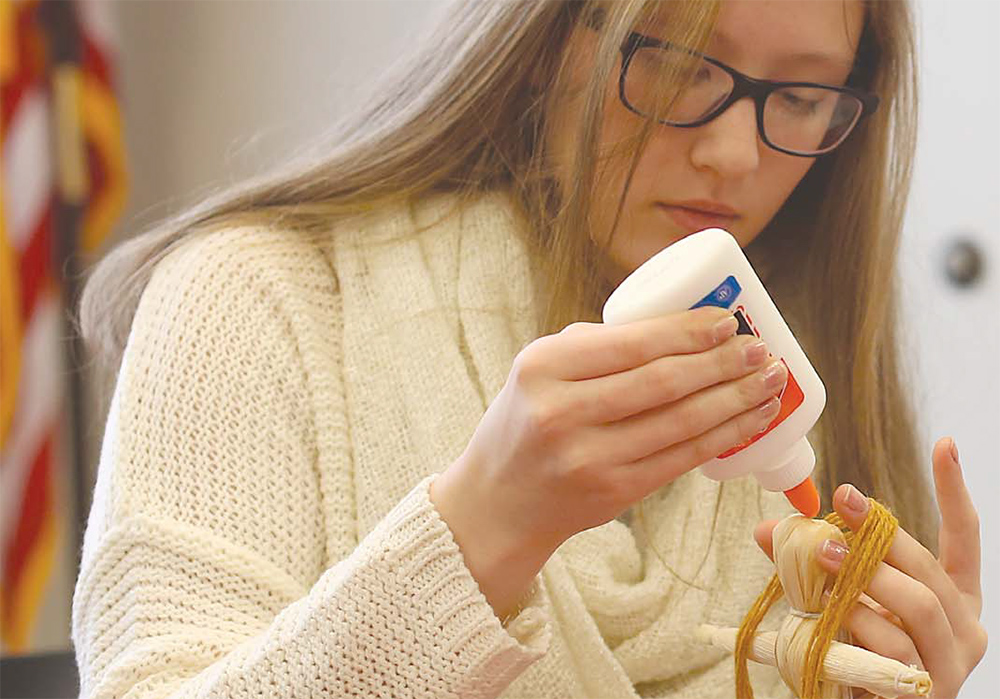 ---
label goes here
CANFIELD
There wasn't a smartphone in sight.
Instead the materials used to spur the imaginations of children in grades kindergarten through middle school were found around the house and the library for an "Old Fashioned Makerspace: Dolls and Puppets" class.
Creations were made from corn husks, feathers, clothespins, scraps of material, pipe cleaners, yarn, cotton balls, duct tape and anything else that, with imagination and creativity, might become a toy or a picture or whatever.
"This is the kind of thing I used to do with my mother and grandmother," said Cindy Christani, a part-time children services librarian at the Canfield Branch of the Public Library of Youngstown and Mahoning County, before beginning the Makerspace class Saturday.
It was time to be creative and entertain each other the way it was done before electronic games and store-bought toys and dolls.
According to one definition, a makerspace is a place where students can gather to create, invent, tinker, explore and discover using a variety of tools and materials.
"I love crafting of all types. This kind of project puts me in my own personal heaven," said Christani, who graduated from United Local Schools and from the Kent State University School of Library Science in 1989.
"I love the technology, but the skills my mom and grandmother taught me are the ultimate," she said.
Christani is the daughter of Wayne and Betty Herron, who was a well-known decorative artist. Her grandmother is Ruth Weaver, who is known as the "baker" of Copeland Oaks, a retirement community in Sebring.
A corn husk doll was the project of the day.
The two youngest girls, Bailey Brown, who firmly said she is 51/2, was accompanied by her mom, Sarah Brown of Canfield, and Lily Mincks, 6, helped by her mother, Julie Mincks, quickly became infatuated with their dolls whose eyes do not roll back and who make no noises.
Sarah said she and Bailey, who named her doll Emma after one of her friends, often do projects together. "Bailey loves anything artsy," her mother said.
Lily was still deciding on a name for her doll when the hourlong class was ending, but it definitely was a girl doll, she said.
Two young women, sisters Grace and Myra Ferris of Hubbard, 14 and 12, respectively, both students and in the band at Hubbard Middle School, do crafts such as scrap booking and knitting, with their mother, Mandy Ferris, at home.
Christani hopes the children who took the class will build memories of doing things with their mothers the way she did.
More like this from vindy.com