Summary of recent criminal activity in Poland and Boardman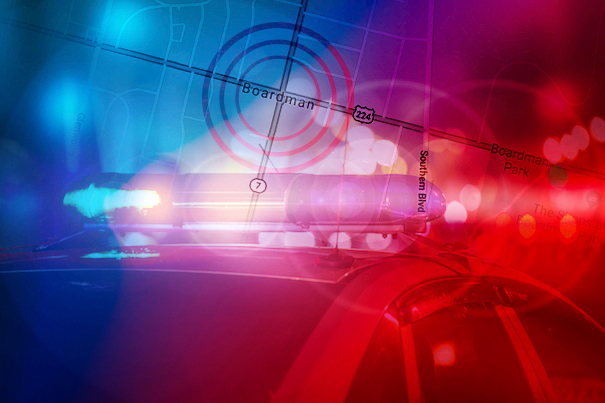 ---
A summary of recent criminal activity in Poland and Boardman
POLAND
Jan. 2
Identity fraud: A Dobbins Road man reported having received a $67 water bill that had been improperly placed in his name.
Jan. 7
Menacing: A Chesterton Drive man told police he has been stalked.
BOARDMAN
Jan. 4
Breaking and entering: The U.S. Marshals Task Force arrested Sean P. Conroy, 36, of New Road, Austintown, who faced a breaking-and-entering charge after someone last August had broken into Pondscape, 5005 Market St., and taken an undisclosed sum of money.
Drugs: Authorities phone booked Erin R. Hallas, 35, of Boardman, on a charge of possessing drug-abuse instruments, related to a Nov. 25, 2017, drug overdose at her Saddlebrook Drive residence. Hallas was found unconscious on the floor with a syringe next to her, a report showed.
Fraud: A Canfield woman at a Huntington Drive apartment told officers she had been deceived into sending $9,921 in taxes and fees to a sweepstakes company, supposedly as a prerequisite for claiming a $7 million prize and a trip to Las Vegas.
Identity theft: A Lockwood Boulevard man found that four money-charge payments that totaled $2,331 had been sent from his account.
Theft: An Oakridge Drive man reported two of his $915 Social Security disability checks stolen.
Theft: A man reportedly took four 24-packs of soda from Dollar General, 4996 Market St.
Jan. 5
Animal complaint: An Afton Avenue man told officers a dog ran through his yard and attacked his dog.
Harassment: An employee with a McClurg Road business reported a man has made unwelcome contact with her, including showing up at the accuser's place of employment, where he reportedly left unwanted gifts and his phone number.
Theft: Two women reportedly stole $57 worth of hair products from Sally Beauty Shops, 395 Boardman-Poland Road, then left in a silver Chevrolet Impala.
Theft: An official with Kohl's, 383 Boardman-Poland Road, alleged a woman in her 20s made a fraudulent return of a bed sheet and two pillow cases that totaled $484.
Theft: A Youngstown boy, 16, and a Boardman boy, 17, were accused of stealing $190 worth of merchandise from Walmart, 1300 Doral Drive.
Identity theft: A Wolosyn Circle woman found out two lines of credit had been opened in her name but without consent. The woman canceled both.
Theft: A woman noticed her $600 cellphone and $20 missing while she was in Southern Park Mall.
Misuse of a credit card: A Boardman man discovered numerous fraudulent charges that totaled more than $400 after his wife had accidentally left her wallet at a Doral Drive big-box store.
Identity theft: An Alissa Place man found out someone without authorization tried to open a credit-card account in his name after he had received several bills from Monroe, Wis.
Jan. 6
Arrest: Police responded to a complaint of a woman causing a disturbance in a dressing room at a Southern Park Mall store, where they took Lashauntika S. Graham, 27, into custody. The Akron woman was wanted on a felony warrant from Mentor.
Theft: A woman reportedly stole a $100 blanket set from Bed, Bath & Beyond, 550 Boardman-Poland Road.
Citation: After pulling him over near Applewood Boulevard, officers issued a minor-misdemeanor citation charging Jason C. Mullen, 20, of Buena Vista Avenue, Youngstown, with having a device commonly used to grind marijuana.
Vandalism: Someone in the 100 block of Shadyside Drive poured transmission fluid on a company-owned truck's rear brakes and cut the transmission line.
Theft: A Pearson Circle woman told officers money had been removed from her bank account, but provided few specific details.
Theft: A manager with Wetzel's Pretzels, 1300 Doral Drive, discovered an undisclosed amount of money was missing from a night deposit.
Harassment: A worker with a Tiffany Boulevard motel reported a woman had threatened to harm him and other employees after having become upset when informed she would need to pay a service fee upon checkout because of the condition of her room.
Theft: Police took custody of Lestacia A. Scott, 25, of Elm Street, Youngstown, who was accused of taking $40 worth of children's merchandise April 13, 2017, from Walmart.
Theft: After responding to a report of a wanted person at Southern Park Mall, authorities took Gary R. Domhoff, 45, into custody on a theft charge. Domhoff, of Mitchell Hill Road, Greenville, Pa., was accused of making a fraudulent return of a $22 T-shirt last month at Touchdown Gifts in the mall.
Theft: Three Lisbon boys, one age 15 and two age 16, along with a 14-year-old Pickerington, Ohio, girl, were accused of stealing three phone chargers from Walmart.
Jan. 7
Arrests: A traffic stop near Shields Road led to the arrest of Lavell D. Collins, 19, of Hollywood Avenue, Youngstown, who was wanted on an Austintown warrant charging theft, as well as Leasia K. Scott, 21, of West Judson Avenue, Youngstown, who was charged with drug abuse (marijuana). A cigar with burn marks and suspected marijuana inside was found, police alleged.
Aggravated menacing: A Poland man reported another man had threatened to shoot him while they were in a parking lot in the 7100 block of Tiffany Boulevard.
Assault: While dealing with a fight at a South Avenue restaurant, officers filed a simple-assault charge against Peter R. Polito, 34, of Canfield Road, Youngstown, after an employee alleged that during an altercation, Polito pushed him against a patio fence, then punched the accuser at least twice in the face. The victim suffered a cut to his lip and had blood on his jacket, a report showed.
Theft: Officers took custody of Cody J. Blake of Thomson Road, Hubbard, who faced a theft charge. Blake, 26, was accused of stealing a $440 box of ammunition last month from Fin Feather Fur Outfitters, 1138 Boardman-Poland Road.
Domestic violence: A charge was pending against a township man after his father alleged the man had pushed him during an altercation between them.
Theft: While responding to a report of a suspicious vehicle on Market Street, authorities arrested Savon E. Young, 24, of Park Avenue, Youngstown, who was charged with taking two $190 pairs of basketball shoes Dec. 27, 2017, from Finish Line, a sports-apparel store in Southern Park Mall.
Theft: Selena A. Connelly, 18, of South Lakeview Road, and Miranda D. Campbell, 26, of West Glenaven Avenue, faced theft charges. The two Youngstown women were accused of stealing $226 worth of clothing, shampoo and hair dye from Walmart.
Misuse of a credit card: A South Avenue man discovered his government-issued benefits card had been used to make $2,000 worth of fraudulent withdrawals.
Assault: A Halbert Drive man and woman reported two men pounded on their door and punched the man, apparently as part of a dispute regarding money, before they left.
Domestic violence: James L. Mills, 32, of Leighton Avenue, Boardman, was charged with the crime after police responded to a fight in the 100 block of Shields Road, where a woman alleged an intoxicated Mills had beaten her up and spit on the accuser. He also was wanted on multiple warrants, including one from Liberty Township.
Theft: A man reportedly stole seven vacuum cleaners from Target, 417 Boardman-Poland Road, costing the big-box store $2,693.
Jan. 8
Arrest: After receiving information about a possible armed robbery, authorities at a South Avenue motel arrested Sequiousa L. King, 30, of Ivanhoe Avenue, Youngstown, on charges of obstructing official business and possessing drug paraphernalia, when, they alleged, King provided a false name and left a suspected crack-cocaine pipe in a cab she had taken. King, who also was wanted on a Youngstown Municipal Court bench warrant, was not charged in the robbery, a report stated.
Theft: Police booked Luzminda T. McCreary, 53, on a theft charge after alleging McCreary, of Lower Elkton Road, Columbiana, had taken $86 worth of clothing that included a T-shirt from Kohl's.
Theft: A Cambridge, Ohio, man discovered a work coat, a pair of boots and a wrench set had been removed from his work truck during his stay at a Tiffany Boulevard motel.
Criminal damaging: A Presidential Court man noticed damage to his mailbox.
Harassment: An employee for a Boardman-Canfield Road business reported having received threatening and obscenity-laced text messages.
Theft: A woman discovered prescription medications and two gift cards had been taken from her purse during a birthday party in the 200 block of Brookfield Avenue.
Theft: A man reportedly stole $70 worth of clothing and shoes from Uptown Cheapskate, a retail store that buys and sells secondhand designer merchandise, at 105 Boardman-Canfield Road.
Theft: A man in his 50s or 60s reportedly stole $199 worth of lobster tails from Giant Eagle, 1201 Doral Drive.
Jan. 9
Arrests: Officers charged Douglas D. Cole, 18, of Gladstone Avenue, Youngstown, and Michael J. Wilson, 23, of New Drive Southwest, Warren, with theft, attempted theft and criminal trespassing after a Millcreek Boulevard man had reported seeing two males on his property who were trying to enter his truck. In addition, Cole and Wilson were wanted on criminal-trespassing warrants from Weathersfield Township.
More like this from vindy.com